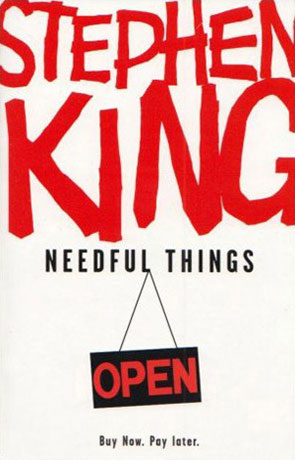 Book details
Needful Things

Publisher:

ISBN:

Published:

Pages:

944

Format reviewed:

Paperback

Review date:

04/08/1999

Language:

English
About the author
Needful Things is a horror story by Stephen King.

The cover says The Last Castle Rock Story, and I guess that King will have a hard time topping this one - if the poor citizens of Castle Rock ever decide that it's worth the trouble to rebuilding their town. Needful Things is about the dark side in us all (have you ever heard that one as a plot synopsis for a King story, before?), only this time it's the small things that get out and have a field day. The little evils. The pranks that's just a bit to evil, to be really funny. As usual King slowly builds up his characters and his milieu. Slowly we get to know a lot of the good people of Castle Rock - we get to know their weaknesses. Enter Mr. Gaunt, owner of the new shop in town - Needful Things. Gaunt seems to know everything about the people of Castle Rock - in fact he seems to know more about these people than they know themselves. Gaunt always has just the thing that you really always wanted in his shop - in fact he always has exactly just the thing that you need! and his prices are fair, he never charges more than people can afford to pay - if they will only do him a small favor.

Through these small favors, Gaunt brings chaos to Castle Rock.

This is not the best Stephen King story that I have ever read, but it's one of the better ones. People sometimes accuse King's stories of being written to a formula (I don't agree) but if it's true this is a pure cast. It has all the elements that constant readers expect: A slow build up, good solid, lovable and multidimensional characters and an evil that is pure evil. When the story finally picks up, you will have a hard time putting this book down.
Written on 4th August 1999 by TC .
You may also like