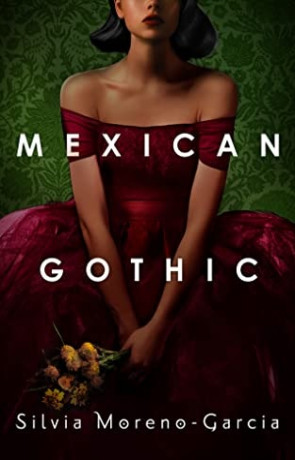 Book details
Mexican Gothic

Author:

Silvia Moreno-Garcia

Publisher:

ISBN:

9781529402650

Published:

June 2020

Pages:

320

Format reviewed:

E-Book

Review date:

30/06/2020

Language:

English
About the author
The gothic novel should always have on the cover the image of a women with a ripped and flowing dress running away in terror from an imposing stately house. This is not the cover that Silvia Moreno-Garcia chose for Mexican Gothic, but it could so easily have been. The story begins as pure gothic, but this being the imagination of Moreno-Garcia, it may very well be not where it ends. Let her take you on a journey to a mysterious house high in the mountains and then let her blow your mind.
Noemí Taboada is living a charmed life. She is a very modern socialite who can enjoy a good party but also pursue an interest in academia. For many women in mid-20th century Mexico this is not the case. One such women is Catalina, Noemí's cousin who moved away to a remote house in the mountains to be with her husband. A letter has arrived that suggests that Catalina is no longer in her right mind. Noemí is sent out to investigate. Will she find a broken woman and an overbearing husband, or something entirely different?
I was first introduced to the writings of Moreno-Garcia via her magnificent Gods of Jade and Shadow, a magical fable steeped in the traditions of Mexico. The book felt so different to anything else I had read, yet still had a compelling set of characters and story. Gothic is set once more in historic Mexico, but it has a very different feel. This is a homage to the gothic writing tradition and, in particular, the books of Britain.
There is a blend of Latin culture and Wuthering Heights. Initially, the English bodice rippers win out. The unique blend that Moreno-Garcia brings to her writing is diluted by her obvious passion for the genre. The character of Noemí on more than one occasion mentions classic novels that her situation reminds her of. As a gothic novel, it is good fun. You have a nice blend of gaslighting husband and unstable wife.
If the book was just traditional gothic, it would have been a fun aside, but it adhered so closely to the classics that even with a touch of Mexican heritage it felt from another era. Therefore, it comes with great satisfaction that a huge event happens in the book that alters how you perceive everything you have read so far. Genre fans will be ecstatic. I for one did not see the events coming and it had a huge and enjoyable impact on me.
The book is almost two parts. The start is traditional gothic, whilst the end is new wave gothic. What makes the stranger elements towards the latter part of the book work is that Moreno-Garcia never loses track of the high gothic style. There is a slight ripeness to events that are perfect, from the dilapidated house to the almost silent residents who dwell within.
The deft balance that the author uses means that the book can appeal to fans of classic gothic tales, but also modern fans of genre fiction such as horror or the supernatural. The likes of Jane Eyre have a psychological horror undertone to them, all that Moreno-Garcia does at the start is to coax it out a little more. What I really enjoyed was the gonzo move the book took. The twists that the book takes are eye opening and great fun. Moreno-Garcia leads you down a traditional gothic path only for her to push you into the woods to struggle on your own against the horrors found within.
You may also like