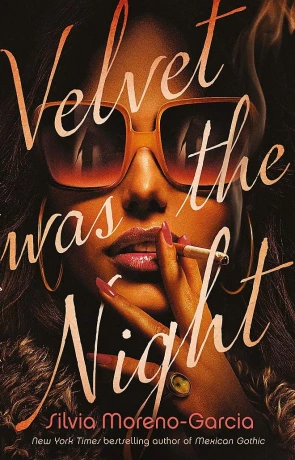 Book details
Velvet Was the Night

Author:

Silvia Moreno-Garcia

Publisher:

ISBN:

9781529417968

Published:

August 2021

Pages:

278

Format reviewed:

Paperback

Review date:

17/08/2021

Language:

English
About the author
I love to read as books transport me to places and worlds that I have never been and can never go. In most cases these are fantasy or science fiction worlds, but there are a lot of places in our own history that seem just as exciting and different. 1970s Mexico is nothing like the country I grew up in as various internal political factions fought among one another while the likes of the CIA and KGB offered a helping hand. This is a time of kidnapping, unlawful arrest and even state sanctioned murder. Silvia Moreno-Garcia's Velvet was the Night proves a crime thriller set 50 years ago can be just as compelling as a space opera set thousands of years in the future.
It is the early 1970s and Maite lives in Mexico City working as a secretary at a law firm. Her life is a lonely one, living alone with her records and romantic comics to entertain her. Her live feels drab and meaningless, so any adventure could add a spark. The simple act of looking after her neighbour's cat should not have been that adventure, but when the neighbour disappears, Maite suddenly finds herself on the periphery of shady politics. Her best move would be to take a step back, but could getting closer to danger be like one of her comics?
Moreno-Garcia is a writer I have come across recently and has fast become one of my favourites. The author does not stick to one genre having written urban fantasy, gothic, and magical romance. Velvet has no fantastical elements and instead is a crime thriller set in an intriguing place and time. What links all Moreno-Garcia's books is the exceptional character and world building. There are few authors who can paint a character as well, in only a few sentences.
Velvet is told from the perspective of Maite, but also Elvis. Elvis is the code name given to a young man who is a member of the Hawks, a state sanctioned group of thugs whose job is to spy and beat up agitators. Elvis' young looks makes him perfect to infiltrate the student groups interested in Marxism. Maite feels old before her time and does not think kindly about others. Elvis is a product of his environment, a survivor who has done unpleasant things to get on in life. Both Maite and Elvis are flawed and fully formed characters, they can be quite unlikable at times, but you always want to see where their path takes them.
The first half of the book slowly builds up the tension as Maite is dragged into events and Elvis observes from afar. We learn that they both have a touch of the fantasist about them. Both feel unhappy in the role they are in and reflect on their pasts and what went wrong. Seeing the story from two perspectives that are very different, but also have elements in common, makes you feel that the characters are kindred spirits, although they have never met.
This is a character piece, but you also get a glimpse into a dark time in History of murky politics and danger. The reader feels transformed to the early 70s and Moreno-Garcia does a fantastic job of using music to evoke a sense of history. Famous hits of the era that the West know well, but also the Mexican cover versions and local hits that were popular in Mexico City.
Within this rich world and characters is a tense thriller that builds as the book reaches its climax. There are touches of John Le Carre espionage, but more grounded in the streets of Mexico City. The story culminates in a very satisfactory manner that will please readers who have invested in the characters, but also those that like action. Velvet is a novel that suggests that Moreno-Garcia is an author who can put their pen to any genre. Next up vampires in Certain Dark Things, something that I am already looking forward to.
You may also like