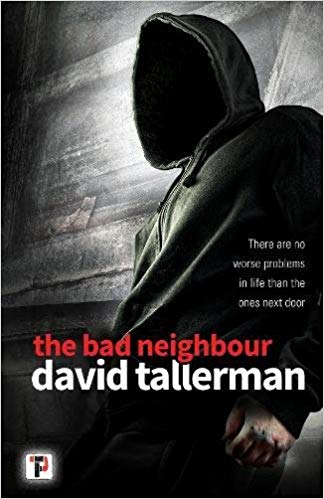 Book details
The Bad Neighbour

Publisher:

Flame Tree Press

ISBN:

9781787580275

Published:

September 2018

Pages:

280

Format reviewed:

Paperback

Review date:

08/01/2019

Language:

English

Age Range:

N/A
Ollie Clay is a supply teacher who inherits fifty thousand pounds and spends it on a house. It turns out the house is next door to a neo Nazi called Chas Walker. Walker's anti-social behaviour contributes to Clay's life spiralling downhill, until he tries to take matters into his own hands and forces a dangerous confrontation, stepping into a terrible situation that he was never prepared for.
The Bad Neighbour is a deceptively written domestic thriller that captures the mood of modern British society. Tallerman's mise-en-scene is very carefully thought out as he describes the suitably realistic and at times, pathetic life of his principle character, Ollie Clay. This is not a world changing story, nor is it a story that, despite the author's other work, waits to invoke the supernatural in some way. If it did, that would undermine the powerful modern message of the plot.
Within that message, Tallerman pulls no punches. Racism, drug use, class prejudice, domestic violence and generational conflict are all introduced and addressed. The modern tensions of British society are here, and they are accurately portrayed. Anyone who has experienced life as a supply teacher in a Bbritish school can certainly attest to that.
Ollie Clay's life is very carefully narrated by Tallerman, who steps into his character's shoes and takes time and trouble to expose the reader to his substantial flaws. Whilst there is an everyman predicament about Clay's circumstances, the way he wallows in his own issues and frets, rather than attempting to better himself does not serve to endear him to the reader. Essentially, the realism of Clay's neuroses makes him unlikeable and whilst that feels wholly accurate, it does raise a problem for the reader as the novel progresses. Following an unlikeable character through a series of distasteful events and watching that character make poor choices that put him into an even worse situation where an awful confrontation is likely, does make the reader reflect on their choice to continue.
This is not to say there is anything poorly written by Tallerman in this book at all. In fact, it needs to be painfully well written to bring about this crisis in the reader. The choice to read on means that the invoked threat of Chas Walker and his group of likeminded associates can be purged by enduring the worst that Ollie Clay is to suffer. The choice to stop means that Walker and his gang will continue to linger in the imagination as a constant bogey man, the potential of their dirty evil magnified by not knowing exactly what they have done.
It is possible that The Bad Neighbour will not travel well to an international audience. The very real context of trying to make a life for yourself alone in Britain and facing the kind of racism that does exist on the streets of some cities in this country, particularly in these divided, post-referendum times, may not be entirely understood by readers in other, more peaceable places around the world.
You may also like