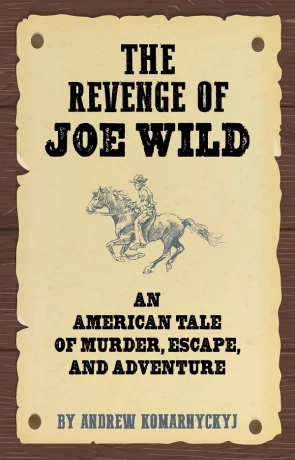 Book details
The Revenge of Joe Wild

Author:

Andrew Komarnyckyj

Publisher:

Santa Monica Press

ISBN:

9781595801111

Published:

July 2022

Pages:

288

Format reviewed:

E-Book

Review date:

02/08/2022

Language:

English
There are many genres out there and you can find yourself as a reader sticking to the same ones. I always noticed the large collection of Westerns and books on historic America in my public library growing up. Most of them in large print, which suggested that the audience was older than my pre-teen years. I dismissed them as being boring and old fashioned, but I would have been wrong. Think of all the classic adventures written on those pages I missed. I had the opportunity in Andrew Komarnyckyj's The Revenge of Joe Wild to make amends and plenty of action and enjoyment was to be had.
Joe Wild grew up no shoes, dirt poor, in Southern Illinois, a strange part of the country to live in on the brink of civil war. Not rich enough or Southern enough to own slaves, but too far South to be considered a Yankee. Joe scratches a life and has learned to use the woods for substance. When a neighbour is murdered, suspicion falls on Joe and rather than stick around to prove his innocence, Joe makes a run for it and starts an adventure that will see him crisscross the county with revenge on his mind.
A 12-year-old protagonist set in historic America may have you thinking that Revenge is a laid back, warm day of a book as you watch Huckelberry Finn float on by down the river. This book certainly has some of the feel of Huck, but it is the darker cousin that explores further the injustices of America at the time from the way they treated slaves to the poor. If this is a teen book, it is certainly one for older teens and can be happily read by any adult looking to try something a little different.
Revenge is told from the perspective of Joe and in his voice as if narrating his past. He has a style and tone that takes a few pages to get used to, but you are soon able to digest it and it really adds to the ambience of the book. Joe is not an educated man, but he has a way with words.
The story can be broken into two parts; before and after Joe joins the army. His childhood days are not easy but have some pleasure. It is not until he goes on the run that the thrills real start. There is a sense of world weariness and reality to Joe even at 12. He sets off to hide in the woods and live off the land. He knows that things will be tough, but he is willing to do anything to survive. This even means breaking the law and betraying others. However, despite how cold Joe wants to be, his good nature always comes through, and he helps in the end.
Joe's solid nature is key to the book. He has a practical eye and not much time for romanticising things from love to slavery. His approach to anything is to make it a challenge to overcome. His perspective on the slave trade seems typical for many Americans in the day, nothing they can do about it, even if they think it ain't right. This holds Joe in good stead in the army where a practical mind and hard work helps him to get along.
Komarnyckyj manages to pack a lot into Joe's life and even has a murder mystery to solve towards the end. The revenge is not a huge part of the book, as it is the journey that is important. Joe takes the reader on a journey through American that has a sense of the authentic, whilst remaining pacy and entertaining. I have not read anything like The Revenge of Joe Wild in a long time and it makes me think I will try more book in the genre.
You may also like