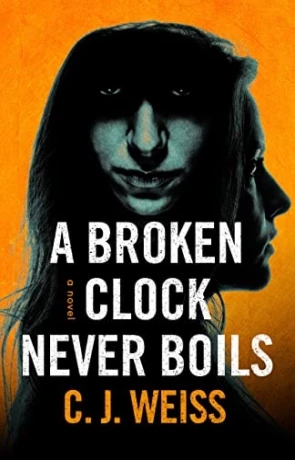 Book details
A Broken Clock Never Boils

ISBN:

9798986487700

Published:

September 2022

Pages:

285

Format reviewed:

E-Book

Review date:

05/10/2022

Language:

English
Horror is a wonderful genre full of fear, but it does not often scare me. I am not afraid of monsters that go bump in the night because I am a rational human being who knows they don't exist. However, some horror does get to me; anything that threatens children or based on real life killers. Another fear of mine you can manipulate is the fear of my mind failing. A Broken Clock Never Boils by C J Weiss is all about a psychiatrist who specialises in treating troubled patients, but when she starts to see her own visions.... Psychiatrist, heal thyself.
Psychiatrist Dr Claire Rossi works hard, not always for the benefit of her patients (although that is a by product), but because she loves the game of discovering what is happening to someone's mind and how she can fix it. Her obsession's origin started with her mother's mental health issues growing up. When Dr Rossi starts seeing a stranger outside her house, it is reminiscent of the influx of new patients who are all seeing similar things. A one in a billion coincidence, or is something more sinister afoot?
The internal world of the mind is fertile soil for an author writing a book about the horror of maddness. You can read Broken as a horror or supernatural tale, but many people will come to it as a solid thriller. The reader does not know what is happening to Dr Rossi and her patients for a long time into the book, it could all be in their minds.
Weiss does a good job of slowly increasing the pace and changing the direction of the book. Initially it is a character study of the prickly Dr Rossi, but we soon discover that something strange is going on with her new pool of patients. The action scenes are short and sharp thrills to begin with, but as the finale starts, the energy of the book increases.
I enjoyed the mystery of the book. You follow Dr Rossi as she investigates, as a scientist she starts by using her training and colleague for help. It is not until more unexplainable things happen that she turns to the Church and talk of curses. Even then, neither we nor the reader can be sure if anything is real. Dr Rossi is an interesting character to choose as she is somewhat aloof and has her own issues. Reading about a psychiatrist having to battle her own mental health at the same time as helping her patients is an interesting dynamic.
Broken for all its hints at the supernatural sits easiest as a thriller. The type of story that a mainstream audience can enjoy. They are introduced to a solid crime story about mysterious stalkers, and they are hooked. Only then does Weiss introduce any concept that could be considered horror or the supernatural.
You may also like