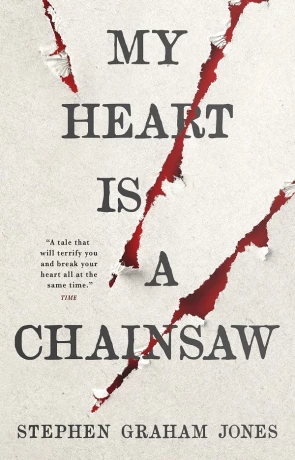 Book details
My Heart is a Chainsaw

Publisher:

ISBN:

9781982137656

Published:

August 2021

Pages:

439

Format reviewed:

Paperback

Review date:

06/10/2021

Language:

English
About the author
Fans of slasher films will recognise many of the rules that make up the genre. The Final Girl will win the day at the last moment when she realises her own strength. This character will be a bastion of good and innocence, but those around her will not. The rocker, goth, cheerleader, geek – all will be victims. What would you do if you recognise the signs that you may be in a slasher film becoming real? Use your knowledge to survive and save others, or be like Jade in Stephen Graham Jones' My Heart is a Chainsaw and just watch things as they unfold?
Jade lives in a remote mountain town and she does not look like getting out any time soon. Her hobby is classic slasher movies and when she starts to see signs of her own town being stalked by a killer her reaction is different than most. Rather than try and solve the issue, she decides to take a step back and observe. She is happy to help the new Final Girl that has arrived in town with some helpful tips on how to stop a killer, but as no one else will listen to the odd horror girl, why bother even trying?
Chainsaw is such an interesting take on the horror genre as the main character believes that she is in a slasher movie, but no one else believes her. Jade is such a complex character that the reader is not sure that you can trust her either. The book is at the same time a horror, but also a thriller and a phycological character study. Is Jade making it all up? Worse still, is she perpetuating the horror and forcing it to happen? You don't know which direction the book is taking until the end.
The first two acts of the book are a slower boil and centre on Jade's life unravelling as she sticks to her belief that the town is in danger. Like any good Cassandra she is disbelieved. The book takes a twist in the final act. Classic horror at its finest, taking elements of both slasher movies, but also your traditional horror of the likes of Herbert. The section out on the lake is both horrific and exhilarating.
To think of Chainsaw as a thrill fest would be untrue as it far more of a character study and exploration of a dead-end town. Jade is not the Final Girl, and she is more complex for that reason. She has had a damaged upbringing, and this is stunting her impending adult life. The book is more about learning about Jade than it is horror, that is until it turns.
Chainsaw is a book that refers to various classic horror and slasher films as it is Jade's obsession. As a fan of the genre, I knew most of them and could follow the shorthand that Jade uses to explain situations. Those who have not seen Halloween through to Scream will lose some of the explanation needed to follow Jade's thinking. Those who do understand will mine a richer seam in the book as Jones plays with the genre. Such as, why does a killer always get faster after they have injured their leg?
Jade is one of the most complex and interesting characters I have read in horror in recent years, so fans of character development will enjoy this book for that aspect. However, it is those with a strong knowledge of slasher and horror films from the late 70s to the late 90s who are best served. They get a novel that plays homage to that era, but also plays with the format. Come cold to this book and you may get a little lost, but the set pieces at the end will still pack a punch.
You may also like