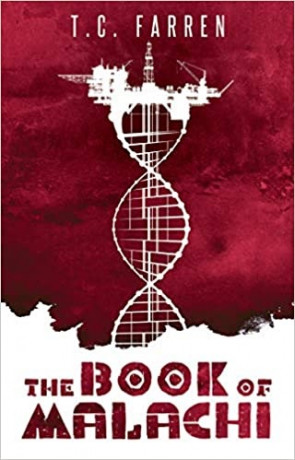 Book details
The Book of Malachi

Publisher:

ISBN:

9781789095197

Published:

October 2020

Pages:

304

Format reviewed:

E-Book

Review date:

13/10/2020

Language:

English
The way that humans treat each other in real life is far darker and harrowing than any science fiction book that you can create, but this does not stop some authors from exploring the depths of the human condition. If we are only as good as how we treat the weakest in society, the people who inhabit the world of The Book of Malachi by T C Farren are not very good. This is a future in which Africa seems adrift, ripe for exploitation. Not only from political leaders but corporations. On a distant offshore oil rig a series of human tragedies are happening. Do murderers and rapists deserve this?
Malachi works silently in a chicken packing factory. His words do not form as he no longer has a tongue. His silence is noted by a corporation looking for a discreet and diligent worker. For six months work on an oil rig working maintenance, Malachi will have a new tongue grown and grafted. This seems like too good an offer to refuse and it is only when Malachi arrives at the oil rig that he realises the type of maintenance expected of him. These organs are not grown in vats, but on prisoners pumped full of growth hormones and kept in cages. His job is to maintain their bodies. Can Malachi ignore this human suffering to gain the ability to speak or will his past not let him live with the violation of these men and women?
It does not take many pages into Malachi to observe that this is a dark book that explores scenarios many people may not want to read. War atrocities, human right violations, anger, pain and suffering. These elements may make the book a difficult read in places, but it also gives it a sense of power and depth. Farren does not shy away from the terrors that occur and they are all man made. Although a science fiction story, there is a sense that this book is set in some of the worst places that our current planet holds. You may want to look away at times, but the characters deserve you to see their story.
As the main character Malachi is an inspired choice. As a mute it makes the first-person perspective make sense. He always internalises his thoughts and we the reader benefit from the development of this skill. The outside world dismisses him as both mute and stupid, but we know otherwise. He is an educated man whose Father taught him English and the works of Shakespeare. Malachi chooses to disguise his full abilities, and this opens possibilities in the narrative as he can enter where others would not be allowed.
The book is not only about Malachi but the how humans interact and their cruelty. On the oil rig there are communities; the workers, the prisoners and the bosses. Each are a different ecosystem and mimic the larger world. Malachi is one of the workers and becomes their friend, but he also has empathy with the prisoners. He spends as much time tending to their needs as with his erstwhile pals. The prisoners are a mixed group taken from prisons across Africa. Are they truly guilty enough to be caged and treated like the worst kept farm animals? Malachi must choose were his loyalties lie.
The interaction with the prisoners force to Malachi to examine his own past and recall the events that led to his tongue being violently removed. There is an inner turmoil within the character that threatens to boil over. This is a person who knows that impulsive actions do not always lead to the solutions you had hoped.
Malachi is unlike most of the science fiction I have read. It is dystopian in outlook but reads like an alternative today. Other dystopian books I have read paint bleak futures but have action and a sometimes-perverse lightness to them. Farren instead embraces the terror from the setting, to the characters and even the prose. This is an unsettling book evocative of the best of dreich 70s horror. There is only a sense of hope towards the latter part. The darkness within these pages will prove too much for some readers but someone looking for a read that challenges your outlook on the world will find a powerful exploration of human cruelty.
You may also like