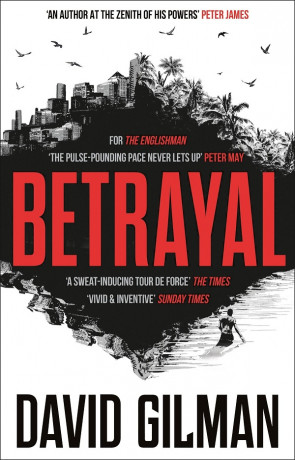 Book details
Betrayal

Series:

Book 2 of The Englishman

ISBN:

9781838931445

Published:

January 2022

Pages:

480

Format reviewed:

E-Book

Review date:

30/01/2023

Language:

English
Books in the series
We Brits have somewhat of a reputation on the international stage as stirring up trouble from behind the curtain. We were accused of it during the lead up to the World Wars and even today regimes will cite the UK as instigating unrest. Us, never! The likes of James Bond and David Gilman's The Englishman series are not helping. In the second outing for Englishman Dan Raglan, Betrayal, the former French Foreign Legion member proves that the only thing more disruptive than a state-run secret service, is a freelance agent who works on their own terms.
Raglan has kept his nose clean in recent years, but when an ex-soldier contacts him, he is drawn into a mystery that will see him cross into the continents of North and South American. A former legionary is missing, they stumbled across a conspiracy that runs deep into the fabric of American politics. A murky place to delve, but Raglan will do what is required to bring his brother home.
I love a good action thriller, and this is certainly what Betrayal is. You can tell that Gilman is an accomplished and experienced writer just in the confidence of character and structure. The character of Raglan has a lot in common with the super popular Jack Reacher. Both roam the world sorting out trouble in their pseudo-psychopathic manner. What the Englishman series adds is a little more espionage, making it a mix of Child and Le Carre. Raglan is a legitimately illegitimate asset, sent in to sort out tricky issues that cannot be recognised officially.
Raglan lives by his own rules. Loyalty to friends and the Legion are above all other things. In this case, this loyalty marries with a mission from MI6. The plot crosses continents and has plenty of visceral action. The elements I likes most are Raglan's use of experience and his spy craft. His life as a special forces soldier and spy means that he knows how to trail someone, hide in plain sight, but also survive in the deepest jungles and kill a man with only the palm of his hand. A dangerous man to be on the wrong side of.
Betrayal is a punchy novel that moves forwards remorselessly like a shark. Raglan is a lone wolf, but the plot does allow for allies. Gilman intelligently dirties the water so that you never know if you can trust anyone. A longstanding ally may turn at any point, so deep the conspiracy goes.
The Englishman series feels like a well-designed world that is full of stories to tell. The series is currently over three books, but barring what may happen in book 3, it is a series that can run and run. The character of Raglan is cold and calculating, but also fascinating and efficient in what he does best. Betrayal is the perfect action thriller fix if you are looking for something different than a six-foot odd ex-military police officer smacking people in the head.
You may also like