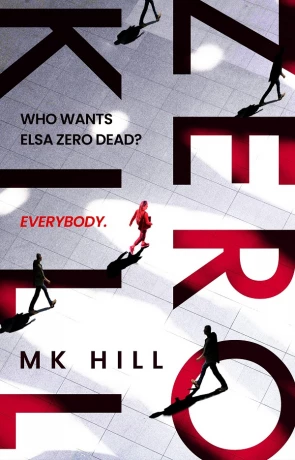 Book details
Zero Kill

ISBN:

9781804549193

Published:

July 2023

Pages:

416

Format reviewed:

Review date:

13/07/2023

Language:

English
I am a genre fan, hence writing reviews for SF Book Reviews. I love the flights of fancy that horror, science fiction and fantasy give an author. Wherever the author leads, I will go. For all my willingness to suspend my disbelief with space battles or Elvish languages, I struggle in more general fiction, with a detective making an unprofessional decision or a lawyer suddenly being able to defend themselves against two armed brutes. It just feels false to me. Is the problem me or the books themselves? M K Hill shows that there is another way for general fiction to go in Zero Kill, a spy thriller as outrageous and entertaining as any sci fi thriller you are going to read. The difference is that this 'could' happen.
Elsa Zero is a personal trainer and single mother of two young children. Tonight, is going to be a special one as her boyfriend is going to pop the question and Elsa is finally ready to open her heart again. It has been closed for a decade since she left her past life. You see, Elsa used to be a spy for hire, respected across the board, but after a mission went South, she decided to retire. However, you never retire from this game and at the stroke of midnight a kill code has been issued and now every assassin in the world is after her. The first assassin to have a go may just be closer than she thinks.
Zero Kill is a spy thriller, but it is more in the Mission Impossible/Bond school of realism that John Le Carre. Indeed, it is even more action packed and crazy than Tom Cruise riding his motorbike off a cliff. From the first chapter Hill lights the touch paper and we are off. You get mere pages to learn about Elsa's normal life for the past few years before it is all tossed away. This is not your typical agent being activated after a shadowy phone call, Elsa likes her new life, she has clients and two children to look after. Elsa's commitment to her children plays a huge role in the story as she cannot just run away, she needs to solve what is happening so that her family can go back to a normal life.
Fixing the issue will not be easy as Elsa cannot trust anyone and most of her contacts are out of date, her best source has fallen on the worst of times and is more of a hinderance than some help. The old firm she works for seems legit, but are they behind her name being added to the kill list? Perhaps the UK secret service will help, but they have her as a number one target. Getting out from under these crosshairs is not going to be easy.
We soon learn that Elsa is part of a larger international conspiracy. The story goes from a hi octane cat and mouse adventure, to something bigger. The world is at risk, and you get that Bond villain tingle when we meet a shady private businessman whose Surrey Mansion House has more than just antiques hidden within. Elsa pings between being friend, foe and back again as various agencies look to kill her and then use her. It is highly enjoyable watching her navigate the various player, always knowing that her children are the most important thing.
Zero Kill is a fun book, it is a spy thriller designed to entertain, not describe the way that spy craft works in the real world. It is a book that starts off at a fast pace and does not take its foot off the peddle throughout, indeed, the book speeds up, becomes more exciting and the stakes get higher. As a genre fan, I loved it, the overblown action and frantic pace. The perfect book to take on holiday or as a quick read, you will not struggle with being entertained, just do not worry too much about how realistic it may be.
You may also like