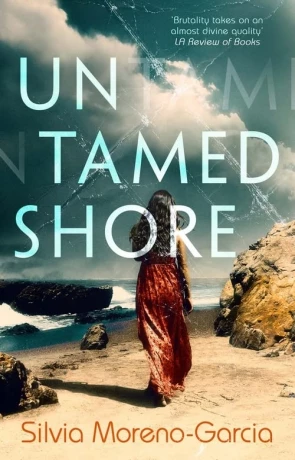 Book details
Untamed Shore

Author:

Silvia Moreno-Garcia

ISBN:

9781529426311

Published:

February 2023

Pages:

288

Format reviewed:

Paperback

Review date:

22/02/2023

Language:

English
About the author
One of the wonderful things about reading is finding that next great author that you love. You read one of their books and instantly spend the next few days hunting down their back catalogue. Experience has taught me not to read too many of these in a row as you start to see parallels in the books – they are the same person writing them. Sometimes you come across an author who refuses to be pigeonholed. Silvia Moreno-Garcia is now close to ten published works and each one is excellent, but also different. One may be fantasy, the next about urban vampires, the follow up a gothic tale with a twist. In the case of Untamed Shore, Moreno-Garcia tackles noir with the emotional intelligence and excellent writing you expect by now.
Viridiana live in the sleepy town of Baja California in late 70s Mexico. She can speak several languages, so makes a living translating for some of the tourists that pass through. Her dream is to get out, but with no prospects or money this is unlikely. Her fortunes begin to change when an American author rents the remote house and needs a translator. The author has brought his wife and brother-in-law with him for company and is willing to pay Viridiana good money. However, the dynamic between the three Americans does not feel right to Viridiana and while she finds herself falling in love, she is also falling into a dangerous situation.
I will admit to being a massive fan of Moreno-Garcia and enjoying all their books. The author has a fantastic sense of place and people. Once again this is found in Untamed, a story about a young Mexican woman, but also the town she grew up in. Viridiana is intelligent and fiery, the only thing holding her back is her upbringing. Viridiana starts off shy and naïve, but the impact that her time with the Americans means that she develops from the girl she was into the women she is about to become.
You can never be sure what direction a Moreno-Garcia book is going to travel, so I will not spoil any later parts of the book. However, while the tone of Mexican Gothic was from the gothic school, Untamed is a modern take on noir. From the description of the town to the references to old movies, Moreno-Garcia transports the reader into the feel of a noir. Not one from the 1950s, but some of the great revival noirs of the late 70s and early 80s.
For a noir to work you need the characters and the set up. Untamed is a slow burn as the true nature of the characters begin to reveal themselves. There is a mystery that unfolds over time, but while you are waiting you are served up a coming-of-age story. In places, Viridiana feels a little too naïve for her own good, but this plays a role in the story and make the journey she goes on even stronger.
Any fan of Moreno-Garcia should read Untamed Shore confident in another story rich in a sense of place and with well-developed characters. In this case, the book will also work for fans of crime and noir. You get a sense of necks sticky with sweat, of characters who are not what they first seem, of a coastline that has sharks in the water, but also sharks that walk on the land who are far more dangerous too your health.
You may also like