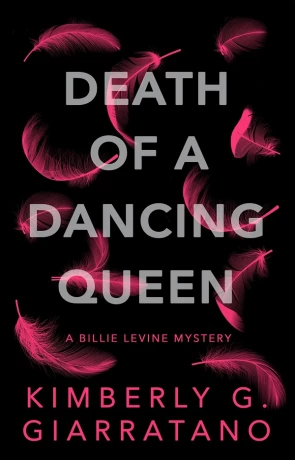 Book details
Death of a Dancing Queen

Author:

Kimberly G Giarratano

Series:

Book 1 of A Billie Levine Mystery

ISBN:

9781915202420

Published:

February 2023

Pages:

337

Format reviewed:

Paperback

Review date:

14/03/2023

Language:

English
Books in the series
It would appear that to be a fictional Private Investigator you must have something that you are addicted to be it booze, drugs, women, glue. The options seem endless, but Kimberly G. Giarratano's Death of a Dancing Queen is the first time I have come across a PI addicted to life. Billie Levine lives with the knowledge of her mother's early onset Alzheimer's, knowing that the disease may be hereditary. One way to combat it; eat well, exercise, and no alcohol. More clean living than the average gumshoe, Billie may be improving her chances of living to an old age, but her plans won't stop a bullet with her name on it.
Since leaving university Billie has worked for her Grandfather's PI business as the trainee, but really the main investigator. It allows her to work her own hours and share the care for her mother. She thought it would be a life of trailing divorcees and lost pets, but when a missing person case she is investigating ends in a dead body, the work is about to get dangerous. Billie finds herself working between the cracks of the New Jersey police, local Jewish Mafia, white supremacists and perhaps worst of all, crime podcasters. Can Billie solve the murder of a young student and what does it all have to do with the death of a dancer decades earlier?
With so much crime fiction out there, you must write something a little different to stand out, but also stick to some of the tropes that makes the genre so popular. Giarratano has done an impressive job of creating a modern noir story and giving it enough uniqueness. Most of that comes from the character of Billie, a young Jewish woman in a job that she was not initially destined for. There are even more layers, her ill mother, but more importantly to Billie's psyche and behaviour, her own fear of early onset Alzheimer's. We are used to reading about a PIs obsession with booze or a Femme Fatale, but Billie's obsession with health and good eating works just as well. She is as broken as any boozed-up PI, and it informs the story.
This is the first Billie Levine Mystery, and you feel like there could be plenty more. Being number one, it has a lot of set up to the characters and locations. I enjoyed learning about Billie, her family, and her relationships. Like any crime noir these relationships are complex and tread a grey line. Billie wants to do good, but she does not always know the good people. Billie is new to the murder game, so the story is engineered to her life – her old university, her old boyfriend etc. It works perfectly well in this foundation novel to develop Billie's skills and reputation. I do think that her next case may have to be a little more out of her local bubble to be realistic.
Dancing Queen has intriguing characters, but also a great modern take on classic noir. The mystery is an interesting one; two cases, one fresh, the other cold. Like the genre demands these two cases will begin to intersect as the story progresses. There are plenty of twists and turns on the way, the conclusion is very well done, giving enough for some people to work out what happened, but leaving most of us pleasantly surprised.
You may also like