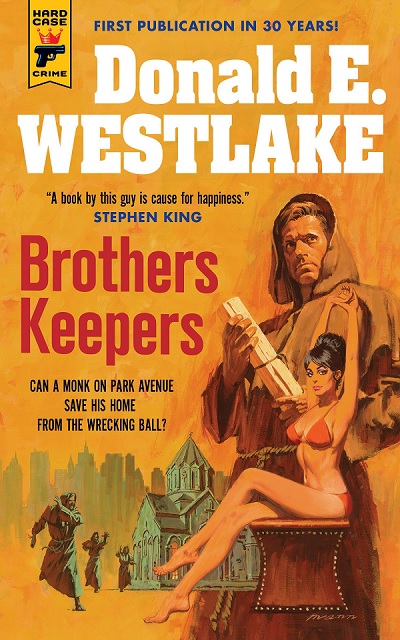 Book details
Brothers Keeper

Author:

Donald E Westlake

Publisher:

ISBN:

9781785657153

Published:

February 2019

Pages:

299

Format reviewed:

Paperback

Review date:

17/02/2019

Language:

English
About the author
The world of crime is riddled with the worst vices known to man; murder, kidnapping, estate acquisition. It is also full of the most ruthless people; bank robbers, killers, monks. You may have noticed that a couple of elements snuck in there that are not always synonymous with crime fiction, but you may just find that a book all about a religious brotherhood trying to save their monastery is one of the warmest crime books you have read in a long while.
Even in the world of religious orders The Crispinite Order of the Novum Mundum is an obscure one. They believe that travel should only be undertaken when absolutely necessary, therefore few Brothers have bothered to leave their monastery since its foundation in 1777. However, this is the 1970s and Brother Benedict has just discovered that their home is at threat from land development. It appears that although they live here, they do not own the land and prime real estate is rare on the island of Manhattan.
Hard Case Crime is an imprint that discovers new fiction, but more often revives forgotten pulp crime from the past. Donald E. Westlake's Brothers Keepers has elements of pulp, but it mostly just a fun crime book. How can crime be fun? There is no murder here and only a touch of light violence. Instead you are treated to a bunch of introverted monks trying to figure out a way to save their home whilst bickering constantly.
Brothers is at is best when the monks are gathered together in one place. Here we see a bunch of eccentrics who all fled the world for their own reasons. The hero, as such, is Brother Benedict, a mild mannered man who is not yet so old to have lost all perspective of the outside. As he was the one to find out about the impending sale of their monastery, he has been tasked with the travel to stop it.
The book gives you a great glimpse not only into a life of solitude, but also 70s New York. The two worlds crash together and both are equally well served by Westlake's writing. You have a real sense of the era, but the greed that land can bring is still relevant to this day. The fact that many of the characters are religious does not make the book heavy, in fact it is a source of merriment as the likes of Benedict are so naïve that they have to stoop to confessing about forgetting to return a pen. When you take this insular outlook and send it out into The Big Apple events are very entertaining.
Towards the final act we move from the monastery to a more solid pulp setting as Brother Benedict has his head turned by the mysterious Eileen, a women who may be able to save the brothers. This section of the book is not quite as fun as earlier, but it does allow Benedict the chance to assess his faith and conclude as to where his place should be.
Brothers is a gentle tale about mild mannered men thrust out of their comfort zone. It is testament to Westlake's great writing that all these eccentrics are great fun to be around. When the action does hot up it is brief, but in keeping with the story. If you are looking for a blood drenched pulp adventure, then this book is not for you. If you are looking for a fun crime story that explores a world that is not normally highlighted, then you have found a gem.
You may also like