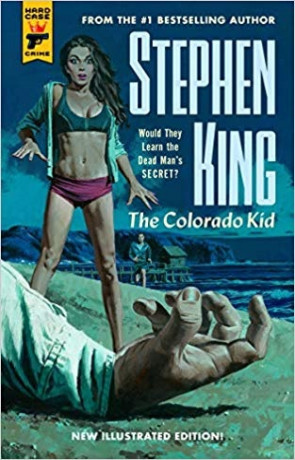 Book details
The Colorado Kid

Publisher:

ISBN:

9781789091557

Published:

July 2019

Pages:

205

Format reviewed:

Paperback

Review date:

21/08/2019

Language:

English
About the author
There are few names in modern writing more evocative than Stephen King. This horror maestro is one of the most successful authors of the past 40 years, but there has always been more to him than killer clowns and sentient cars. King has dabbled in a multitude of other genres; science fiction, fantasy and crime. Some of his later supernatural books are crime novels with only a splash of the macabre. The Colorado Kid is a departure as it is a straight crime story that pays homage to Dime Novels and helped to launch the fantastic imprint of Hard Case Crime.
When a body is discovered leaning against a post, the local constabulary are not that enthused to investigate. Just another John Doe that no one will miss. To some on this remote island community off Maine, it is an investigation that is worth pursuing. Told years later from the point of view of two aged newspapermen, Colorado is a novel that shows that mysteries are called that for a reason and not everything can be solved.
Colorado is a curate's egg of a story. From the off you know that you are in the hands of a master writer as King's style transports you into an old fashioned local newspaper room instantly. You also find yourself in the hands of a master manipulator as you soon realised that not everything is as it seems. As a reader you are going to have to concentrate to get the most from the book.
There is a languid style to this book as it is told from two relaxed older characters who like to spin a tale and will not hurry up for anyone. You are not always witnessing the actual events of the story such as the body being discovered, but viewing it from the prism of two gentlemen telling a story. This is a great technique for King to throw in a few red herrings. The book evolves from being about discovering who the missing person is, to the more important question of how the man got to the island in the first place.
Your enjoyment of this book may simply rely on how much you need to know. If you are happy with some enigmatic reasoning and open endings, you will love the style and simply enjoy the ride. However, if you are used to the rigid structure that crime fiction often take, you may find the book uncomfortable. King suggests that it does not really matter who did it as long as the journey is worthwhile. I have to say that I was a little unsatisfied by the conclusion and prefer the more slobber knocker books that Hard Case produce, but Colorado still has merit due to the enjoyable writing style that King brings to the book.
This edition was the new Illustrated Version. This entailed various hand drawn pictures throughout. They are produced by different artists and reflect elements of the story. They are an interesting aside, but do not add a huge amount to the overall experience. You could purchase the vanilla version and still have the same reading adventure.
You may also like