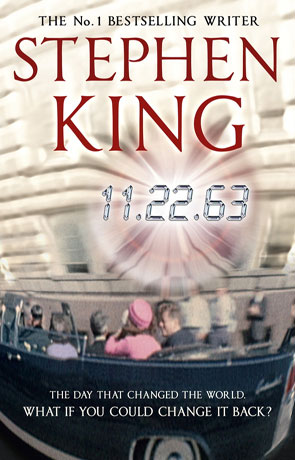 Book details
11.22.63

Publisher:

ISBN:

9781440000000

Published:

July 2012

Pages:

752

Format reviewed:

Paperback

Review date:

03/08/2012

Language:

English

Age Range:

N/A
About the author
When asked to review this book I can honestly say I did so with some trepidation. Although few would doubt King is as his name suggests, his later period of novels, Dark Tower aside, would, I'm sorry to say argue the case against him. But this is King you say, and I know many Constant Readers out there will gobble up everything the author writes. I too was one of those readers, back in the day and I would spend many a sleepless night glued to his pages and fighting his corner against his critics the very next day, although matchsticks and ProPlus certainly helped.
His later works aren't his best but looking at the hefty side of this novel I was hoping in the darkest recesses of my heart that this novel was going to be different. And different it was, not only in quality but in style and genre also.
Now I will admit I'm not the fastest of readers and have taken my time with this novel but not because it was slow and ponderous but because I didn't ever want to finish it, I wanted it to be a part of my life forever. In some ways it will be , after all there aren't many books out there that make me cry, the ending, well don't worry I'm not going to spoil that bit.
If you was to pick up only one book this year, make it this one. It is a story of Jake, a man who finds a rabbit hole back in time to 1958. Every time he goes through the rabbit hole he ends up at the same time, same place and every time is like the first time he has been there. Time resets itself. Armed with information and prior knowledge of events of the past he goes about to change the past, for what he hopes will be better futures for those involved. He plans to kill the abusive drunken father who murders all but one of his family, he stops the poor girl from being involved in a hunting accident that will put her in a wheelchair. But the butterfly effect is in place, only Jake doesn't know it yet, and little changes lead to small ripples. What if he was to cause a big change in the world's history? What if he could prevent JFK from being assassinated? What changes would that bring to the future? Only one thing to do. Save his life and find out.
Written on 3rd August 2012 by Arron .
You may also like