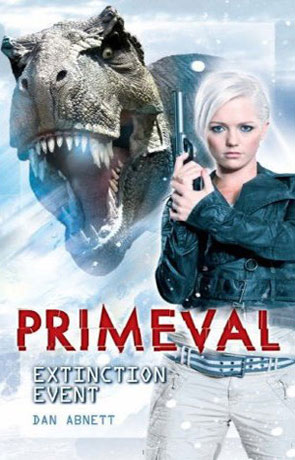 Book details
Primeval: Extinction Event

Publisher:

ISBN:

9780857680624

Published:

January 2009

Pages:

272

Format reviewed:

Paperback

Review date:

01/01/2011

Language:

English

Age Range:

N/A
About the author
Primeval: Extinction Event is an original story set within the Primeval universe and featuring the cast of the hit TV series, written by Dan Abnett and published by Titan Books.

Strange anomalies are ripping holes in the very fabric of time, creating rifts that allow creatures from the distant past to roam the present world. Evolutionary zoologist Nick Cutter and his team must track down and capture the often dangerous entities and try and put them back where they belong.

When a prehistoric creature goes rampaging in central London causing massive damage and a number of fatalities, Cutter decides a new approach is needed. Then he and team members are kidnapped and the resultant mystery means he might have found the answer…

I must admit i've only watched the first few of the episodes of the first series of Primeval on TV, what I did see was enjoyable but the timing of the scheduling meant I never watched any more and didn't really get hooked into the series. As such I am unable to offer commentary about the accuracy of the Primeval canon but have seen enough to get a good feel of the show. What I can tell you is that Dan Abnett has managed to create a dinosaur stomping novel that's on a par with Michael Crichton's seminal novel Jurassic Park, and in many ways even improves on the former novel with a tighter script, better characterisation and richer descriptions.

The action scenes are both dramatic and descriptive, and the dinosaurs very much take the center stage in these encounters, giant stomping behemoths that really come to life within the pages of the novel. The plot is fairly straight forward and pretty fast paced while there is enough back story to allow the uninitiated to grasp the story but not too much for the Primeval fans to be put off or slow down the pace. One of the most difficult things to get right in a book that's based on film or TV is the actual feel, the spirit of the show and I'm glad to say that Dan Abnett has got it spot on here, close your eyes and you can just imagine the characters on screen.

The characterisation itself is just spot on, while the enigmatic Nick clearly takes center stage the supporting cast are just as interesting, my favourite being the irrepressible Connor who manages to stumble in and out of trouble at the drop of a hat and really considers himself the lothario. I also love the way the story is tied to a real life catastrophic event and this really helps to form that vital sense of belief.

Primeval: Extinction Event is a time travelling tale of dinosaur disaster, action packed, gripping and irresistible, highly recommended for all.
Written on 1st January 2011 by Ant .
You may also like