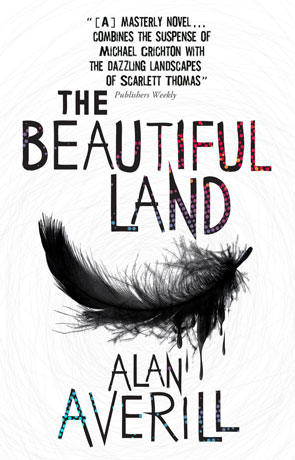 Book details
The Beautiful Land

Publisher:

ISBN:

978-1781169179

Published:

October 2013

Pages:

352

Format reviewed:

Paperback

Review date:

18/12/2013

Language:

English

Age Range:

N/A
The Beautiful Land makes excellent use of the parallel dimensions theory as it relates to time travel. Here you don't directly travel in time but to a different point in a parallel world which could be almost like our own or vastly different depending on the changes that have taken place. Here though it's also possible to re-write realities and that's where the problems begin. As if that wasn't enough there are worlds that are empty, stripped of life and it appears to be the work of malice; of a cold intelligence.
The Beautiful Land is undoubtedly a Beautiful book and it's as odd as it is enticing. It starts off in a very dark way and yet is utterly compelling right from the word go - with a black humour that is perfectly balanced with the more serious side to the story. The book maintains a vice-like grip on the reader throughout the journey with sharp, captivating dialogue.
The prose is fluid and with a real eloquence that almost becomes poetic in places and the protagonists are re-reassuringly human with realistic frailties and foibles. The big bad is suitably dark and dangerous - drawn from the page to have an almost tangible quality about it. Despite jumping from reality to reality Averill manages to keep the structure simple, side-stepping the complexity that often clouds time-travel and parallel dimensional stories.
The action is dramatic, with a raw edge that perfectly matches the dark tone. The spaces between are filled with a suspenseful tone that really does keep the reader on edge, expecting the worst.
The ending is masterfully played and genuinely moving, memorable and perfectly fitting with the story. I can count on one hand the books that match this ending in tone. It really is that good.
Overall The Beautiful Land is one heck of a book, it's got drama, humour and action in all the right places along with a powerful, unique voice.
Written on 18th December 2013 by Ant .
You may also like