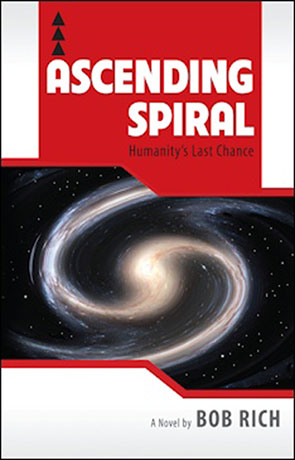 Book details
Ascending Spiral

Publisher:

ISBN:

978-1615991860

Published:

March 2013

Pages:

248

Format reviewed:

E Book

Review date:

24/09/2014

Language:

English

Age Range:

15-
A unique twist on the time-travel tradition! A mix of genres amalgamated into something unforgettable. This is a read to be experienced with your brain's switch flipped on.
From the book's synopsis:
Dr. Pip Lipkin has lived for 12,000 years, incarnated many times as man, woman, and even as species beyond our world and senses. But he's here for a reason: to pay restitution for an ancient crime by working to save humanity from certain destruction. "Ascending Spiral" is a book that will take the reader to many different places and times, showing, ultimately, that our differences and divisions, even at their most devastating, are less important than our similarities. 
Dr. Rich's Ascending Spiral began as an examination on how the author handled mixing several genres into something unique. An exercise in philosophy and the traditional argument over essence, the fictional story takes on a spirit of its own as it lures the reader through several ages in both Earth's past and future history. Reminiscent of Cloud Atlas, Ascending Spiral goes beyond the conflicts that the protagonists encounter. It really isn't about the story but about the experience. And without giving away the mysteries of Pip's journey, this reviewer challenges those reading this review to fall into the snare Dr. Rich has constructed. If it doesn't kill you, the end of the journey will do what few mixed genre fictions achieve—causing you to rethink everything you've ever thought to be truth.
You may also like