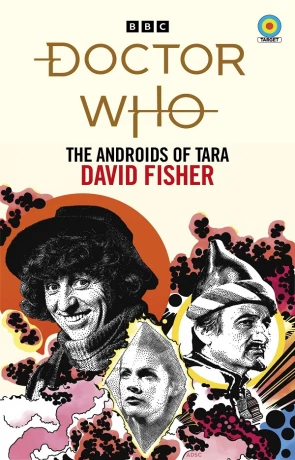 Book details
The Androids of Tara

Series:

Doctor Who

ISBN:

9781785947926

Published:

July 2022

Pages:

160

Format reviewed:

Paperback

Review date:

19/12/2022

Language:

English
Books in the series
Beautiful Chaos
The Coming of the Terraphiles
About the author
The Doctor can travel anywhere in the Universe and at any time. He can witness the last days of existence or visit a planet of peace. Or he could visit Tara, a planet that seems like our own feudal era Britain, but with added androids. And some odd feeling 70s chauvinism. Target Books have adapted David Fisher's own audio version of Doctor Who: The Androids of Tara. A classic episode that is great fun, but also feels very much of the time.
The Fourth Doctor and Romana are in the middle of their hunt for the fourth segment of The Key of Time and when searching for this ultimate Doctor Who MacGuffin, they land on the planet Tara. A lovely place for a spot of fishing, but also for Machiavellian intrigue as The Doctor, Romana, and K-9 all become embroiled in the local politics which seems to centre around killing rather than compromise.
Tara is a fun read, but a ripe one. Originally a 1978 episode it feels very much of that era, and that is not a bad thing. Although a little naïve and chauvinistic, it is a harmless and entertaining tale. This is an alien planet and what is to say that on other planets Lords do not treat their peasants like cattle? Many of our own Lords did in the past. Here, the Count Grendel uses women like playthings, marrying them and then killing them, if it benefits his motives. Romana finds herself at the centre of his twisted court.
I do not have an issue with Count Grendel, he is a classic moustache twizzling bad guy, he is not meant to be nice to anyone. Where the book falls is the way that Romana is treated. This is not a companion seen in her best light. In her own right a Time Lady, training to be as great as The Doctor, Romana is resigned to being kidnapped and passed from pillar to post. Her most important role being her resemblance to a local Princess. A tragic misuse of a character. You would not see any of the modern companions being treated with quite so little regard.
The slight 1978ness to the book aside, the story is great fun. It is a camp adventure with Count Grendel and The Doctor trying to out eccentric one another. There is an enjoyable back and forth between the two.
Fisher and the Target Team do a decent job of explaining the way that such a feudal society could have advanced android technology. It feels like a silly idea, but a fun one. I can build a ten-foot android creature, but we are still hitting each other with swords. It makes for an entertaining tale as Grendel does whatever he can to win the crown. It is Tararian societies' willingness to kill first and ask questions later that has held it back. The Doctor can have great fun with this.
Like so many of the Doctor Who Target books, this is a good representation of the episode and is a short and punchy read. It does go beyond the basics to world build, but it is unable to fix the flaws with Romana's role in this outing. It is a fun read, one that will entertain any Who fan or a science fiction lover looking for a quick read.
You may also like