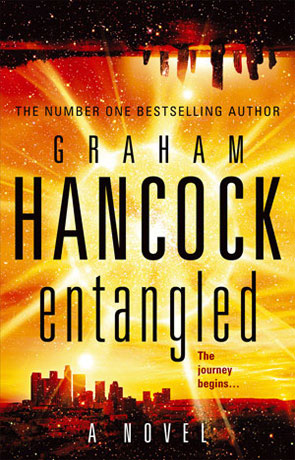 Book details
Entangled

Publisher:

ISBN:

Published:

April 2010

Pages:

448

Format reviewed:

Hardback

Review date:

01/04/2010

Language:

English
Entangled is a time-spanning fantasy novel from the best-selling author, Graham Hancock.

Leoni is a troubled teenager, living in modern day Los Angeles and after an accidental drug overdose causes her to have a "near-death" experience, she experiences her soul being lifted from her body and thrown back 24 000 years into the past. While there she meets Ria, a young stone age woman fighting for her life against the evil army of Illimani, led by the demon known as Sulpa who is determined to enslave the whole of humanity.

The Illimani invaders sweep across the land of the stone age humans and the last remaining Neanderthal people, hunted almost to extinction, savagely inflicting torture and human sacrifice to Supla, whose ultimate goal is to transcend the past and appear in the 21st century and enslave mankind forever. Each sacrifice of an innocent and death of a Neanderthal brings him ever closer to this goal and it is Ria's fate to stop the evil. Leoni must unite with Ria and offer every help she can, but already Supla has some power in Leoni's own time and she soon finds herself in the present and the past.

Entangled is an accomplished novel of scope and depth with well realised characters and visionary in it's descriptions. The plot travels along at quite a pace, switching from past to present as the story unfolds and it is clear Graham Hancock has drawn from his rich knowledge of past ancient history and the supernatural. From the stone age people to the Neanderthal culture, everything has a very authentic feel and is described in excellent detail. It is this fine attention to detail that makes the plot very plausible and lifts the story off the page. The novel does however feature some quite graphic scenes of violence and bad language, not that I mind this in a novel but it did on the odd occasion appear a little gratuitous, and there is quite a lot of descriptive drug use, not a book for the younger reader.

Entangled is an enjoyable journey through past and present with a great plot, interesting characters and a unique perspective, with somewhat of a cliff hanger ending.
Written on 1st April 2010 by Ant .
You may also like