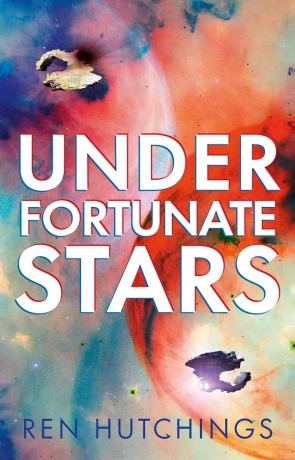 Book details
Under Fortunate Stars

ISBN:

9781786185921

Published:

March 2022

Pages:

486

Format reviewed:

Paperback

Review date:

20/05/2022

Language:

English
I have a love hate relationship with time travel stories. I love the mind-bending physics and puzzles that they create but hate the fact that most of them just could not work. How can people from the past learn what they need to from those in the future if they have not lived their own futures yet? MIND HURTS. As with many things, I am overthinking it. I should just sit back and enjoy the ride and Under Fortunate Stars by Ren Hutchings is one of the most entertaining time travel space adventures that you will ever read today, tomorrow, or even yesterday.
The crew of the Jonah are running on fumes with an illicit cargo, captured highjacker and useless paying passenger. Jereth and Leeg are having to sleep on the floor, but even that is not too bad compared to when they are drawn into a strange space anomaly. Now they are adrift in space with air running out. Death awaits them until another ship responds, the ZeyCorp Gallion. Both ships are trapped, but its seems that they are not the same in many other ways. The Gallion seems far more advanced, almost as if it is from the future.
Getting time travel right is almost impossible and Hutchings does an excellent job of creating a story about time that is also a puzzle. The fate of both the Jonah and Gallion is told from within the anomaly, but also via snippets of the past. We learn more about the various crew members and their past informs the present. Hidden skills and secrets are revealed.
The story plays out in a linear fashion, with flashbacks, but there is also a meta-story being told. The reader starts to realise that what is occurring within this anomaly has far reaching consequences. The crew members slowly start to understand and believe this too. You can get bogged down in how any of the time travel elements would work, but you do not need to as Hutchings concentrates on making the story entertaining and does not get caught up in exposition and jargon.
The time travel elements of the book will itch the science fiction scratch of any fan of the genre, but the book works because the characters are so good. The story is told mostly from the perspectives of a couple of crew members from both the Jonah and the Gallion. These are perfectly flawed characters who are just trying to do their best in an almost impossible situation. The professional scientific elements from the Gallion are a perfect foil for the more haphazard and lose Johan crew. Between the two of them, they may just be able to get out of this mess.
If you had to describe Fortunate in a word, it would be joy. A joy to read. There is a lightness of touch to the story that makes it a breeze to read, even if some of the science fiction concepts could melt your brain should you think about them too much. At its heart, this is an adventure story of two crews working against a ticking clock and limited resources to save themselves. It just so happens that what they are doing may also change the fabric of time. Stakes as huge as this has rarely been written with such a deft and enjoyable touch.
You may also like