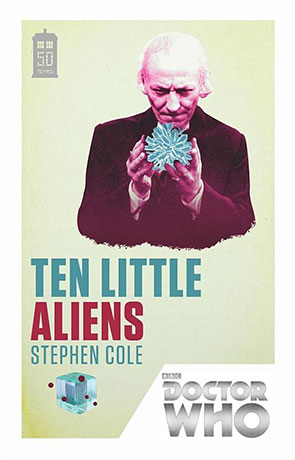 Book details
Ten Little Aliens

Series:

Doctor Who

Publisher:

ISBN:

978-1849905169

Published:

June 2002

Pages:

320

Format reviewed:

Paperback

Review date:

29/12/2014

Language:

English

Age Range:

13-
Books in the series
Beautiful Chaos
The Coming of the Terraphiles
On the edge of Earths Empire, far out in space, an elite group of soldiers are on a training mission.
A training mission preparing them to face their implacible enemy against which a war rages across the galaxy. Deep in the heart of the hollowed out asteroid where their training takes place a chilling secret awaits. Ten alien bodies, frozen in time at the very moment of their violent death. The bodies are those of the ten most wanted terrorists. The discovery could help to end the war that has devastated much of the Galaxy. The immediate question however is how where they killed? Is the killer still at large in the dark corridors?
Even more curious is the arrival of an enigmatic figure who calls himself "The Doctor" and his "companions" Ben and Polly.
I've always been a fan of Doctor Who and these re-published novels for the 50th Anniversary are a great set of reads. Going back to the very beginning with the first Doctor is an intriguing glimpse into the past and one that sets the tone perfectly for the series overall.
Cole provides a strong story which by his own admission is like a "Starship Troopers" combined with Agitha Christie" (The Title is a play on the Agitha Christie story "Ten Little Indians"). An odd combination but one that works well within the confines of the Who Universe. A sort of murder mystery with ground-pounding soldiers marching about all gung-ho while the Doctor and his companions go for a more sutble approach. This provides a nice counterpoint and highlights the brians-over-brawn approach that epitimises Doctor Who.
The author shows his considerable talents here, creating a gripping story that makes the most of the first Doctor and companions Ben and Polly. Each of these seem perfectly placed, the author clearly knows his stuff and all these characters react exactly as you would expect them too. The only slight niggle I have is that I would have preffered to see more of the Doctor who doesn't get a lot of time, although the time he is there is mannerisms are re-created perfectly.
As far as the mystery elements go I'd say that there is enough to keep most guessing who the culprit is - although I did figure it out way before the reveal (I usually do though). Even so it didn't prevent the story from being highly entertaining and there is little pause, the story skipping along at a good rate.
Ten Little Aliens has broad enough appeal for anyone who is looking for an interesting space mystery story. A strong Doctor Who novel and a great start to the 50th Anniversary collection.
Written on 29th December 2014 by Ant .
You may also like