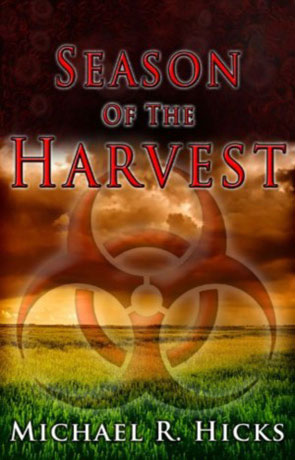 Book details
Season of the Harvest

Publisher:

ISBN:

Published:

Pages:

Format reviewed:

E Book

Review date:

01/07/2011

Language:

English

Age Range:

N/A
FBI Special Agent Jack Dawson's best friend and colleague is brutally murdered while pursuing an investigation into the genetic manipulation of food crops and Jack is convinced that a group of eco-terrorists are behind the killing, with the beautiful geneticist Naomi Perrault being the prime suspect.

When a bomb devastates the FBI lab that holds the evidence of the murder and FBI agents show up who don't seem to be who they claim, Jack is framed for murder and Naomi becomes his only hope of survival. Confronted by the terrifying truth of what the genetically engineered seeds stolen by his friend are truly for, Jack joins Naomi in a desperate battle across half the globe to save humanity from extermination...

Season of the Harvest is a good read, intelligently written with style and a distinct voice that manages to keep the reader on their toes. The plot is fairly straight forward but does contain enough twists to keep the interest level high while the action sequences are well scripted.

This is one of those novels with an almost movie like quality, the author's descriptive and imaginative prose really engages the grey matter. More of a thriller with science fiction elements than a straight scifi novel (if such a beast exists) it's a little like a 21st century version of an x-files, and one of the better episodes at that, more like "Irresistible" than say "Vampire family's" or "Folie A Deux".

The plot is pretty much edge of your seat stuff with a fast pace and a twisting story that keeps the reader glued to the pages, although it is a little predicable in places and won't tax the mind over much, I had pretty much figured out most of what was going to happen only a third or so through the book. There is however plenty of action, these scenes are handled with ingenuity and a good sense of suspense. The characters are well drawn, although the central protagonist is a little clichéd - tough FBI agent and former soldier who is haunted by the brutal death of his wife but this doesn't prevent them from being engaging and interesting.

The message here is the dangers of genetic manipulation, modifying organic entities without really understanding how they tick and the possible consequences that playing around with the blueprint of life can have. Part way through the book another big plot element is introduced which becomes an effective social commentary on the worlds political stage and this additional story arc is handled very well.

I did really enjoyed reading Season of the Harvest, while there may be a few cliché's in there and by and large it's pretty predictable - coming across more as a thriller than a sci-fi novel, the story is engaging, the action scenes well played out and the author is a natural storyteller, recommended.
Written on 1st July 2011 by Ant .
You may also like