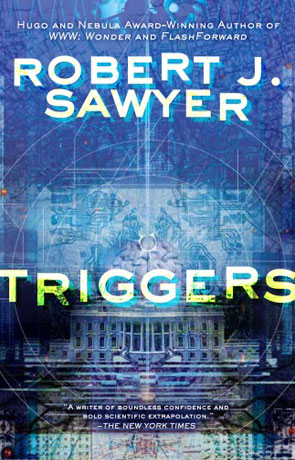 Book details
Triggers

Publisher:

ISBN:

9780575129573

Published:

April 2012

Pages:

352

Format reviewed:

Paperback

Review date:

09/07/2012

Language:

English

Age Range:

N/A
About the author
An Assassin's bullet strikes President Seth Jerrison on the eve of a top secret military operation, he is taken to the nearest hospital where doctors fight to save his life. At the very same hospital Dr Ranjip Singh is carrying out experiments with a device that can ease traumatic memories.
In the operating room the president suffers a cardiac arrest while at the same time a terrorist bomb goes off nearby, he has a near-death experience but the memories of the life that flashes in front of his eyes are not his own. It quickly becomes clear that Dr Singh's experiment has been affected by an electromagnetic pulse the bomb blast created allowing a random group of people access to each others minds.
This means that someone now has access to the presidents memories, including the knowledge of the secret operation that's about to begin, knowledge that could cost countless lives if it was revealed. But finding out just who has switched memories with whom is a daunting one- particularly when some of the people involved have reason to lie.
Sawyers novels of late manage to capture the current climate and offer arguments for how the near future could play out. In trigger this near future includes a greater terrorist threat post-Bin Laden which seems to be having a much greater affect than before the terrorist leader was killed. Against this backdrop we have the one single science fiction element, that of the memories swap which is a brilliant plot device and used very effectively to create a modern day thriller. As with most of his works, Sawyer maintains a much more optimistic outlook to any possible apocalypse (despite the increased terrorist activities) and his faith in human nature is also greater than many writers. This is one of the things I really love about Sawyers writing, not only is it very personal and full of real characters but he doesn't try and see the worst in everyone which makes a refreshing change.
I also love the way Sawyer plays with this idea of these characters having another persons memories and he uses this to great effect exploring themes of sex, race and the "structural model" of the psyche, as defined by Sigmund Freud. These join with the other, broader themes including politics and people's rights. The authors ability to create such realistic and everyday characters is the key to making this novel work and he really does manage to compose something that has the tension of a thriller with the big ideas of a sci-fi novel, seen through some very personal narratives and a fairly large cast of people.
Like most of Sawyers work, it's this exploration of the characters themselves that is the real bones of the story with the over-arching "threat to the world" plot less important than how these people react to the situation they are placed in.
The pace tends to build as the novel progresses and in the last quarter of the book changes gear to a pretty powerful ending. It's one of those novels that really does make you think, even after you've finished the story it stays with you and that's always the sign of a good book. Perfect for anyone who likes the big ideas of scifi without the many tropes that often come with it along with anyone else who enjoys a good thriller.
Written on 9th July 2012 by Ant .
You may also like