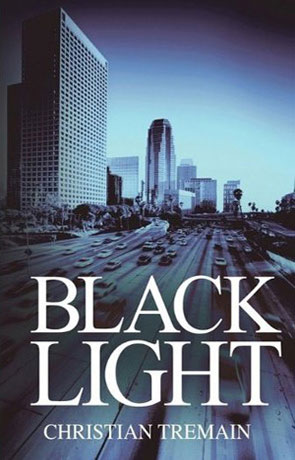 Book details
Black Light

Publisher:

ISBN:

Published:

July 2009

Pages:

406

Format reviewed:

Hardback

Review date:

01/08/2009

Language:

English

Age Range:

N/A
Black Light is an original science fiction novel, written by Christian Tremain.

Josh Brenin is going through some pretty tough times. Since he lost his wife in a car crash, Josh has been unable to adequately deal with life. He loses his high paid exceutive job and begins to suffer from insomnia, causing him to trial a new wonder drug to get him into a sleep pattern again.

It isn't long however before Josh starts to have serious nightmares with just too much touch of reality to them. He begins to be stalked by a nightmarish ghoul and then his bad dreams take a turn for the worse when they begin to show up in his waking life.

Josh is thrown into an unknown world of good versus evil that isn't restrained to this dimension and threatens the very fabric of his and everyone else's reality.

Black Light is a fast paced novel, propelling the ready along a well written story at a great rate of knots. The characters are well realised and pretty grounded in the hum drum of reality, which helps to elevate this novel above the standard fare. The book`s plot is mostly highly original, while paying a compliment to the matrix series of films which delivers a very rewarding reading experience.

Christian Tremain is clearly a very talented writer and should be applauded for creating a novel of both character and depth, I for one am very much looking forward to reading any future works he chooses to write.
Written on 1st August 2009 by Ant .
You may also like