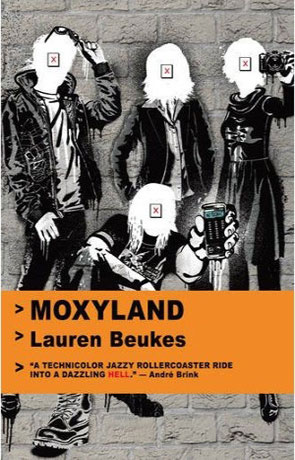 Book details
Moxyland

Publisher:

ISBN:

Published:

July 2009

Pages:

320

Format reviewed:

Paperback

Review date:

01/07/2010

Language:

English

Age Range:

N/A
About the author
Moxyland is the debut novel of Lauren Beukes and the first book published by Angry Robot Books. It is currently nominated in the longlist for the South African Sunday Times Fiction Prize.

Set in Cape-town in the near future, four hip young adults live in a world where your online identity is just as important as your offline life. Getting disconnected is a fate worse than imprisonment but who will stand up to the overpowering and oppressive government?

Kendra is an art school drop-out who finds her niche by signing up to a nanotech marketing program, basically becoming a living, breathing advert for a soft drink.

Lerato is a very ambitious Aidsbaby who is busy plotting to defect from her corporate employers.

Tendeka is a hot headed activist who is becoming increasingly destructive.

Toby is a rogue blogger, creating a video-cast of his daily screwed up life, trying to create as much chaos to film as possible.

Moxyland essentially deals with technical progress and how on it's current track could quite easily result in complete loss of personal freedom, think a very adult version of Cory Doctorow's little brother mixed with blade-runner, then peppered with "V" for vendetta and topped off with cyberpunk classics like Snow Clash and you will begin to grasp the ultra modern novel that is Moxyland.

By it's very definition, the dystopian novel tends to make for uncomfortable reading, the subject matter will not allow otherwise, as a result it can be very difficult to create a readable and ultimately entertaining story.

I am happy to say that Lauren not only achieves this feat but actually surpasses many other attempts to do so, creating a dystopian future that is corporate in nature with a brutally efficient police force highly efficient at suppressing any form of public protest.

Not only is this very topical (looking at the current economic and political climate it is easy to see happening) but by also combining current technological trends and then expanding on them, (for example the current mobile phone / pda / iphone tech) the reader is drawn deep into the story.

Managing to combine futuristic lingo with current street talk, Moxyland is a highly charged, imaginative and emphatic story that manages to both impress and disturb at the same time. A word of caution though this is clearly an adult only novel, not for the younger readers.
Written on 1st July 2010 by Ant .
You may also like