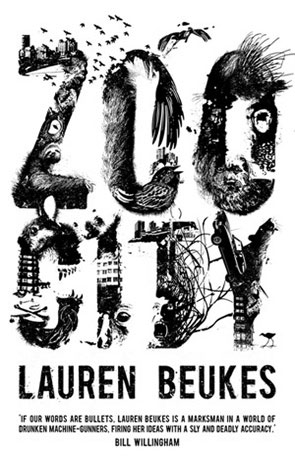 Book details
Zoo City

Publisher:

ISBN:

Published:

September 2010

Pages:

384

Format reviewed:

Paperback

Review date:

04/08/2010

Language:

English

Age Range:

N/A
Awards won
About the author
Zoo City is an Urban fantasy novel by the South African author Lauren Beukes.

Zinzi December is a woman with a gift, and perhaps a curse - over ten years ago a remarkable and disturbing event changed the lives of many, and the world in general. Those who have committed the crime of murder, or otherwise killed someone awoke one day to find themselves in the company of a familiar / spirit guide who is bound to them in spirit and soul. Their past transgression manifest as a physical reminder. This animal is so closely linked that if the creature dies, then they die too, in a suitably nasty fashion.

In a modern day Johannesburg the "Animalled" are treated as second class citizens, and a form of segregation that has created a "Zoo City" where the outcasts live on the edge of society. But every cloud has it's silver lining, and in the "Animalled" case they often have a special "gift", something individual and in some cases quite remarkable.

For the tough, street smart Zinzi this means an ability to find "lost" things, and together with her sloth, she eakes out an existence by finding and returning other people's lost property. When she is hired to find a missing person (her least favourite type of job) she soon finds herself dragged into the dangerous, dark underworld of the slums where the criminal class rule and policemen fear to tread.

The Novel is written as a first person narrative in the present tense, which works very well with Lauren Beukes descriptive, sassy and energetic prose blended with intimate descriptions of the lives and loves of the books very colourful (read quite twisted and a little unhinged) characters. It doesn't take long for the novel to draw you into the character of Zinzi, a lovable rogue who does what she can to survive and piece her life together after a major mistake took her quite far on the road to oblivion, and resulted in her "Animalled" status.

Zinzi is very much a product of society, discarded but able to pick herself up and keep going when all seems lost, stupid enough to get herself into dangerous situations but smart enough to think her way out.

The real beauty of this novel is the way that the real world has been carefully altered with just the one small difference of the physical familiar manifestation, but done it such a way that you could really believe that this is actually happening right now in Johannesburg, which is the whole point really. The slums, the murders and the "colourful" characters are all there, along with the very real social problems the book deals with, even post Apartheid, the vestiges of which still cloud politics and South African society itself. There are messages in the novel, and lesson's that we can all learn but they are subtly played just beneath the surface, there for those that care to look.

At times the witty and lyrical prose is sheer magic, the story captivating and the characters exotic, cruel and beautiful while the backdrop of Johannesburg seeths with hidden, lurking dangers around every corner, Zoo City is quite simply captivating.
Written on 4th August 2010 by Ant .
You may also like