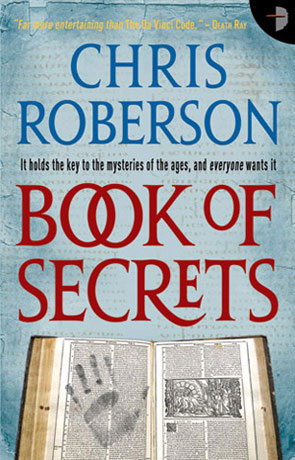 Book details
Book of Secrets

Publisher:

ISBN:

Published:

August 2009

Pages:

384

Format reviewed:

Paperback

Review date:

11/02/2011

Language:

English

Age Range:

N/A
Book of Secrets is a fantasy novel by Chris Roberson.

Book of Secrets by Chris Roberson is a weird mix of things you'll have come across before. Written in the first person it tells the story of Spencer Finch, a journalist down on his luck who is following some leads which could become a good paying job. It turns into a story which involves the mob, a secret society, criminals and law men all after the same thing... and Spencer, after a bit of running around has it in his possession.

Despite being a journalist Spencer comes across as the stereotypical American investigator in the style of Mike Hammer, single, smokes and drinks too much and takes his coffee black and eats on the run. The story goes from that to one more likely found to have Robert Langdon in and there's a touch of the Lone Ranger, Robin Hood and the Scarlet Pimpernel all mixed up in there as well. It flits from city to city in the USA with a brief introduction to the seamier side of each one giving the impression that each one is exactly the same it's just the people that vary.

The author says he's been working on this book since he had the idea when at university and, I'm afraid, that's exactly how it comes across, a rather immature plot written to death. I was left with the feeling that it had all been done before and I'd read half a dozen books with similar themes. The only difference being this one took a pinch of each and put them all in together. The plot is so easy to follow you know what's going to happen before you get there and the finale was just waiting to happen by about half way through. In fact you get the feeling that Spencer is the only person who doesn't know what's going on.

Not a book I would want to re-read since I felt like I already had. I just wanted to get to the end to see if I was right.
Written on 11th February 2011 by Gill.
You may also like