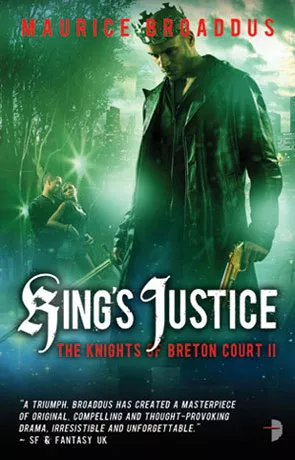 Book details
Books in the series
Awards won
About the author
King's Justice is the second novel in the Knights of Breton Court series and the sequel to the phenomenal novel King maker by Maurice Broaddus.

From the drug gangs of downtown Indianapolis, the one true king will arise.

Spurred on with ever more urgent visions by his mystic advisor Merle, King attempts to unite the warring gangs. But the knights of Breton Court are assailed on all sides by greed, temptation and some very real monsters. But worse, there is betrayal from within King's innermost circle.

To say i've been looking forward to this novel would be a distinct understatement, King Maker left a perspicuous and long lasting impression and despite the hundred or more books I have read since then I still recall the novel with a degree of clarity. To be able to take such a well established folklore as King Arthur and blend the elements and quintessential essence into a unique modern story without it sounding contrived or plagurised takes a consumate amount of skill.

To recap on the story so far, in King Maker we were introduced to the colourful cast that frequent the area around Breton Court, an suburb of Indianapolis (the capital city of the state of Indiana). Most of the principle characters have a name that allows the reader to see who they bear resemblance to in the original aurthorian legend. So we have King, Lady G, Merle, Lott and Percy (amongst others).

The streets of Breton Court are practically owned by the locals, full of gangs, drugs and most crimes you could imagine (and probably some you couldn't too),it's a very run down area where survival is never guaranteed and death is cheap. King is the son of Luther and has a destiny to unite the factions that run the streets. Within this chaotic environment walk the enigmatic fey, remnants of a magical past who still hold on to a great deal of power.

The book doesn't hold back from descriptions of sex, violence, bad language and drugs but to be fair it wouldn't really be a tale of life on the streets if it did, there is no gratuitous use though and as a result such language has all the more power. Somehow King's Justice has a more comfortable feel than it's predecesor, partly a result of already knowing many of the characters but the author himself seems more comfortable too. The book also moves faster, as we have already been given a intro into this dark world the book just get's right on with story.

The plot is both involved and very intelligent, spending time with each of the characters like mini story arcs all heading in the same general direction, this is handled very well and at no point did I feel lost or disoriented, it's is very much an episode of life on the streets. In this manner we get to know a lot more about the characters and my favorite still has to be Merle and Sir Rupert (even though we only get brief glimpses of them) - for me they just make the book. Percy also holds a soft spot, a real innocent soul and in many ways more complex a character than most.

So how good is the book? well, if I say 18 pages - that's how much time it took me to be hooked, and that's just reading the prologue before chapter one even started. I can count on one hand how many authors have the power to do that (one being my favorite PKD). Within those 18 pages Maurice Broaddus managed to evoke an attachment to those kid's which made what happens on pages 17 to 18 really tug at the old heart strings. More importantly you get to understand why Rellik became the person he is, and even relate to the choices he makes. It's almost like Maurice Broaddus is reliving real memories rather than creating a fictional story, the suspension of disbelief is both immediate and faultless.

King's Justice performs the impossible feat of improving on it's predecessor, it's simply an incredible work of compelling fiction and the closest most of us will ever get (if we are lucky) to living in a getto, pure genius.
Written on 29th January 2011 by Ant .
You may also like