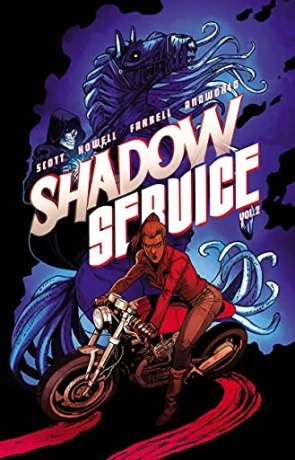 Book details
Shadow Service Volume 2: Mission Infernal

Series:

Shadow Service

Publisher:

Vault Comics

ISBN:

9781638490036

Published:

September 2021

Pages:

128

Format reviewed:

E-Book

Review date:

30/09/2021

Language:

English
Books in the series
About the author
We all have a past. For most of us it is dull. I went to school, Uni and then got a job. It is rare that I have to face off against the hideous undead or talk to the local rat population. Gina Meyers does not have it so easy, and her past is coming back to haunt her. The issue is that she does not know her own past. Where do her powers come from and how strong is she? Gina is not the only person interested in these answers and during Cavan Scott's Shadow Service Volume 2: Mission Infernal, we learn a lot more about this young witch.
No longer a witch for hire, Gina is on the run from the mysterious MI666, and the only team left to play for are the demons. With her closest allies seemingly betraying her on every side it is a desperate call that could go wrong. And it does. Hideously. Gina now finds herself stuck between a torture chamber and execution for treason. What is a witch to do?
The first volume of Shadow contained the initial five comics and acted as the perfect introduction to Gina and her world. Gina herself was given star billing to begin with, but over time we met new characters and started to explore the world of MI666. This second outing further explores the mysterious black ops team, but also returns to the core part of the novel, who is Gina and how is she so powerful.
Scott is great at balancing character development with moving the story forwards. There are sections of this volume that flesh out the background of different characters, we get to know most of them a little better by the end. Gina is the most complex creation and is given the most development, as is right. Her existence starts to become key to the story itself, the narrative and her past are entwined.
Alongside the character development there is a lot of world building going on. It is not until the very end of this volume that we start to get a sense of where Gina's future will lie. We are kept guessing; freelancer, demon toady or MI666 agent? None of her friends and allies are safe, both from death or from Gina's wrath.
A graphic novel relies on the writer but the work of Corin Howell and Triona Farrell should also be noted as the artist and colourist. The style is clean and modern with plenty to see on the page that informs the reader. It is an adult comic, so there is plenty of gore to enjoy and some nudity (demon based). Howell is good at the large set pieces when Gina explodes with magic, or a demon meets a particularly bad ending.
For a comic that is only ten issues long, Scott does an impressive job in creating a world and set of characters that you feel you know well already. There is a sense of Britishness to the book that adds to the style, Americans don't seem to be able to do sarcasm as well as us or be quite as downtrodden. There is still plenty to explore in future volumes in the series, but you don't feel like you have been cheated out of any progression. The pacing of the series is perfect, and the door is wide open for more to be revealed. Let's just hope it is not a door that leads to the demon underworld.
Written on 30th September 2021 by Sam Tyler .
You may also like