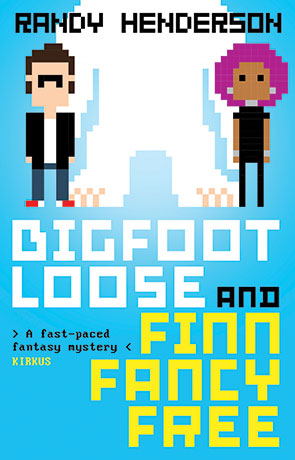 Book details
Bigfoot Loose and Fin Fancy Free

Publisher:

ISBN:

978-1783297276

Published:

February 2016

Pages:

400

Format reviewed:

Paperback

Review date:

18/04/2016

Language:

English

Age Range:

15-
Phineas (Finn) Gramayare has an unusual occupation. He's a part-trained necromancer, returned to the mortal world after being exiled to the Fairy realm for 25 years for a crime he didn't commit. Along with his Necromancy ability, Finn has decided to use his connections to offer a match-making service for magical creatures as a side-business.
His time in the Fairy realm has made it's mark in a number of ways, not least with the fact he has a Fey Spirit called Alynon trapped in his head. Finn also feels like he's missed out on helping his family, not least his brother Petey and Petey's girlfriend Vee. He also feels guilt for his grand-fathers evil deeds (the results of which are the reason for Phineas' exile).
When he is tasked with finding true love for a Sasquatch it becomes a bit more complicated with a murder to investigate after a Nymph is killed. Investigating this puts Finn in the middle of a boiling pot involving the Authority, the Fey and possibly even the start of a war.
I hadn't read the first book before reading this and although the author does mention previous events it also felt like I was missing out on a number of in-jokes. On the whole I did still enjoy the book and the story still made sense (mostly) but I would recommend reading Fin Fancy Necromancy first, if you can.
It's an unusual book, the prose is inviting and saturated with a friendly, funny banter. The characters are lively and quirky, most have some form of supernatural ability — or are part of a supernatural race. The story is engaging although at times I still felt like I was missing the bigger picture having not read the previous book.
I loved the authors voice and his humour which keeps the book light-hearted even at it's darkest moments. There are loads of pop culture references — especially with 80's culture (Fin having missed out on much with his extended incarceration) while the interplay between characters is one of the real highlights of the book. The world-building is credible — the world of the fey and creatures of magic are effectively integrated into our reality. The protagonist and his family are a great set of characters and well fleshed out, although the antagonists don't feel quite so well-rounded. For anyone growing up in the 80's the book is worth reading just for that lovely 80's glow that the author instills.
Bigfoot Loose and Fin Fancy Free is a fun read that doesn't take itself too seriously, a fresh and engaging read.
Written on 18th April 2016 by Ant .
You may also like