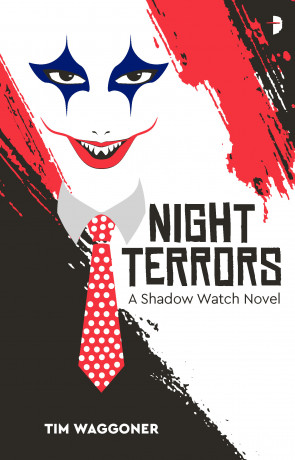 Book details
Night Terrors

Series:

Shadow Watch

Publisher:

ISBN:

9780857663702

Published:

May 2014

Pages:

304

Format reviewed:

Paperback

Review date:

10/11/2020

Language:

English
Books in the series
About the author
For many people clowns are the stuff of nightmares and there they should remain. In the modern age you can pretty much live a life free of these demon entertainers; just avoid going to the circus, CBEEBIES and any films about IT. But what about if the clowns of your dreams decided to leave and come to the real world? In the world of Night Terrors not only do you have to get along with your nightmare, but you may just have to buddy up with them as cops.
The line between the real world and dreams is a surprisingly thin one. To the majority of us we will never know, but some people bond with their nightmares and can travel from one world to the other. Audra is one such person and with the help of her psychotic clown sidekick, Mr Jinx, she must help police this line. Usually, the job is the occasional chasing of a nightmarish creature along the city streets, but recently these events have been happening more regularly and covering them up is becoming impossible. Are the worlds of the wake and the asleep about to collide and what happens if it does?
I am a fan of Tim Waggoner and in particular his Nekropolis books that star Zombie PI Matt Richter; a series of great action adventure books that took place in a brilliantly realised world. Night Terrors does not stray too far from this template as the world of Hell is similar to that of dreams. However, in this series it allows Waggoner to bring in far more human elements to the story as half is set on Earth. This means that you can identify well with the characters, especially Audra, but best of all is seeing the dream and wake versions of the same characters.
The element I found most interesting was Jinx's insane dream version compared to his more benign and intelligent wake version. The relationship between the two partners is complex, Jinx was born of Audra's nightmares, but has become somewhat of a protector to her. Although a beast of nightmarish qualities, Jinx knows what he is; it is Audra's lack of professionalism that is the biggest danger at times.
The characters of the book work well and there are some fun sidekicks included later. At times the book concentrates on the action. There are big set pieces as supernatural beings take on one another. These are ok in moderation but are a little too numerous. It is not helped that there is often little consequence to the action as a team of dream weavers just repair things and make humans forget.
There is a nugget of a good idea at the centre of 'Night Terrors', but it suffers as much from anything from being similar to the Nekropolis books, but not as good. I would have preferred more Richter stories than spending time here. Waggoner seemingly wanted to merge his ideas of hell with the real world, but rather than enhancing the tension, it has lessened as all the consequences are tidied away.
You may also like