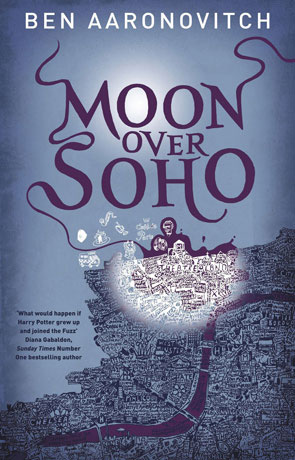 Book details
Moon Over Soho

Series:

Rivers of London Series

Publisher:

ISBN:

9780575097629

Published:

October 2011

Pages:

384

Format reviewed:

Paperback

Review date:

22/03/2012

Language:

English

Age Range:

N/A
Books in the series
About the author
Reviewed by Ed Prior. Moon Over Soho is the second novel in Ben Aaronovitch's Rivers of London series about Metropolitan Police Constable and trainee wizard Peter Grant and his magical mentor DCI Thomas Nightingale.

Moon Over Soho finds PC Peter Grant still living with the fallout from his first encounter with London's magical underworld. His best friend, and potential love interest, Lesley has been horribly disfigured due to the events of Rivers of London and Peter must continue his magical education in order to help police the boundary between the supernatural and mundane worlds.

A series of sudden deaths, apparently with natural causes, are connected by a distinctive magical signature – the bodies resonate with the faint sound of jazz music. Simultaneously, and as hinted at toward the end of the last novel, several men have been attacked by what appears to be a woman with a fearsome set of vagina dentata. His investigation brings Peter into contact with jazz (and Patisserie Valerie) aficionado Simone Fitzwilliam, a trio of journeymen jazz musicians and his own father, the legendary might-have-been jazzman Richard "Lord" Grant.

Ben Aaronovitch's background in writing for TV, including episodes of Casualty and Doctor Who, shows in this fast-paced, well-plotted sequel which seemlessly blends the London we know with fantastical elements that are both original and well-thought out. He creates a world which is familiar enough to be entirely believable, yet strange enough to satisfy the most demanding of fantasy readers. Like its predecessor this novel is firmly grounded in the landscape of London and now the culture and history of jazz add another layer of depth. It is clear Aaronovitch has a great deal of knowledge about London and jazz music and the casual way he intersperses this into the narrative adds a sense of realism and makes the similarly handled history and practice of magic feel entirely believable.

Moon Over Soho introduces a number of distinctive new characters, while bringing back many of the best from Rivers of London. This ability to populate his world with engaging, believable characters is a great strength of Aaronovitch's writing. Peter Grant narrates with a voice that feels absolutely grounded in modern London and adds a wry sense of humour to proceedings. His interactions with his mentor, DCI Nightingale, are always a highlight and manage to subvert the usual cliché of the magician and his apprentice. Similarly, Grant's interactions with old partner Lesley and new love interest Simone demonstrate different sides to his character. Although perhaps a little too in thrall to his genitalia, Peter is always fundamentally likeable. We also get to explore his relationship with his parents in a way that forms an organic part of the plot and provides valuable context to Grant's life and motivations.

Where Moon Over Soho perhaps falls down slightly is in being very much part of a series. The plot and relationships between characters rely so much on the previous novel there would be no point reading this as a standalone. Likewise elements such as the introduction of mysterious black magician the Faceless One are left clearly unresolved, which might frustrate some readers. That said, anyone looking for an absorbing and enthralling series that will leave them begging for more need look no further. In particular, Moon Over Soho ends on a brilliant cliff-hanger which left me literally open-mouthed with excitement for the next instalment.

Moon Over Soho is a gripping continuation of Rivers of London's well executed blend of police-procedural and fantasy with a good splash of horror thrown in. This is urban fantasy done with a loving attention to detail and enlivened by an ever present wit making this series a must-read for anyone who likes their fantasy with a strong edge of realism.
Written on 22nd March 2012 by Ed.
You may also like