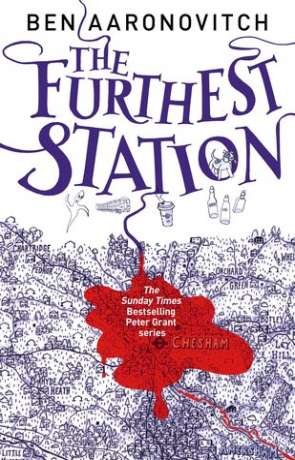 Book details
The Furthest Station

Series:

Rivers of London Series

Publisher:

ISBN:

978-1473222427

Published:

September 2017

Pages:

128

Format reviewed:

Paperback

Review date:

09/10/2017

Language:

English

Age Range:

11-
Books in the series
About the author
The Furthest Station is a new novella that continues the adventures of PC Grant and the Folly in the Rivers of London series, investigating crimes that are a bit more out of the ordinary.
PC Grant joins British Transport Police officer Jaget Kumar to investigate ghost sightings on the Metropolitan line. While ghost sightings themselves are not out of the ordinary for the Folly, these ghosts seem to be agressive in the pursuit of something unknown. Investigating such events prove difficult as witnesses forget the encounter briefly after witnessing it.
Together with his teenage neice Abigail and toby the ghost sniffing dog, things take a darker turn when it becomes clear that someones life might be at stake and they may be ruuning out of time to save them.
It's good to see Abigail play a larger role on this story, they make a good team with the tutor, student roles working well (even though Peter himself is still a student). The usual clever wit and comic timing are just as evident as are the authors talent and bringing his characters to life. Peter and the team are just so much fun to read about, it's impossible not to get drawn in. It is also good to get a bit more background to the character of Kumar and I hope we'll see him in future stories. I am also hoping to get to spend more time with Molly she's one of my favorite characters in the series but we only see her very briefly here.
The shorter book allows the author to provide a much more focused story with little diversion. The only real issue is that given the fewer pages and tight prose the book is over far too quickly.
The Furthest Station works well as a novella, its a tightly packed and focused story with a great set of characters and strong, dynamic plot giving it an almost stand-alone quality. If you have read any of the previous books i'd recommend it, if you haven't, it's not a bad place to start.
Written on 9th October 2017 by Ant .
You may also like