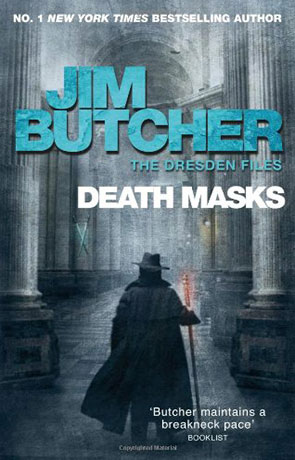 Book details
Death Masks

Series:

The Dresden Files

Publisher:

ISBN:

978-0356500317

Published:

August 2003

Pages:

448

Format reviewed:

Paperback

Review date:

10/12/2014

Language:

English

Age Range:

15-
Books in the series
About the author
The fifth book in the Dresden Files following the adventures of that intrepid wizard Harry Dresden. It begins as Dresden books often do, with attempts on Harry's life and that pretty much sets the pace for the whole story.
If you've read the previous books you will be familiar with the ongoing problems with the Red Court, the events of which do move forward somewhat here. That isn't to say you need to have read any of the the previous four books. The author has done an admirable job of making each novel entirely accessible and Death Masks is no exception.
The premise of the main plot is the disappearance of "the Shroud" (yet THAT one) and some connected, rather gruesome deaths. This see's Harry mixed up in what is essentially a good old fashioned fight between good and evil; three Knights of the cross against a bunch of fallen angels. It's a book that is relentless with a huge amount of energy, lots of action and a blistering pace that see's poor Harry get even more set-upon than usual.
I loved the inclusion of the other two Knights along with the return of Michael, the interplay between Michael's wife and Harry is just superb. The evil of this story has an almost tangiable feel to it, the big bad that manages to carry a degree of gravitas. We've got the usual twists and turns and as ever Harry is put through ever more dangerous situations. The tension these situations create is, as ever, nail-biting.
You might think that given that we are now on the fifth book further character development of Harry would have flat-lined somewhat but if anything we are learning so much more as the series progresses. I love how Dresden is developing, beginning to get over events of previously and at times making some harsh decisions. My favorite character of this book though is the enigmatic wizened old knight Shiro, cliched he might be but also brought to life brilliantly. The authors usual wit is at play, not least in the character of Sanya - an atheist who works for god and the Vatican as a knight.
Jim butcher seems to get better with each Dresden story he writes and Death Masks is no exception, a blistering pace, some impressive characters (good and bad) as ever the incredibly easy-reading and warm style that is a hallmark of the series. The strongest book in the series yet.
Written on 10th December 2014 by Ant .
You may also like