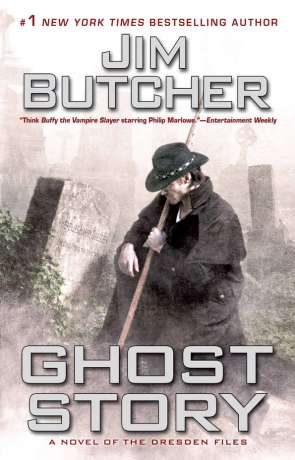 Book details
Ghost Story

Series:

The Dresden Files

Publisher:

ISBN:

978-1841497167

Published:

August 2012

Pages:

624

Format reviewed:

Paperback

Review date:

26/11/2018

Language:

English
Books in the series
About the author
It's difficult to write a review of Ghost Story without giving spoilers away about the previous book, Changes. Having said that, I'd recommend reading Changes before attempting Ghost Story, while any of the Dresden Files novels can be read individually, read this one without knowing the history will spoil it for you a little if you want to read the previous books.
As the title implies, in Ghost Story Harry Dresden has become a spook, without his powers and unable to affect change in the corporeal world. You would think by this point Dresden would be forgiven for taking a rest and leaving all the chasing, fighting and danger to those still breathing. Alas even dead, it doesn't seem he can get a break and this time the murder he has to investigate is his own, with his friends lives at stake should he fail.
This book is different to all Dresden Files stories before it, breaking new ground. For the first time the powerful and often feared wizard Harry Dresden can't use his magic. He can't use brute force to fix his problems and the roles have been reversed - this time he's the spook looking in. The world-building of the disembodied spirit is great, Butcher building a wonderfully detailed set of rules and history which helping to define just what a ghost is and what it can do.
The plot has the usual level of twists and turns you'd expect and all the usual humour and sharp wit are present and correct. This book however is much more reflective, both a reflection on the series itself and that of the choices Dresden has made. There is a lot more time spent with the secondary characters with Butcher putting a lot of thought into how the void that Dresden has left could be filled. I loved to see these characters adapt, grow and make difficult choices, it's a big game-changer - more than any novel before it in the series.
It's a powerful, emotional book. I don't just mean with all the time, energy and emotion that the reader has invested over the previous twelve books. It's also a reflection on death, acceptance and the weight of choice, a dialogue on death and the life afterwards. How people can adapt and grow to fill those spaces, that even though each of us are irreplaceable, life does and will go on without us. The book deals with the weight of the choices we make, Dresden reflecting on the difficult decisions he's made and finding some acceptance that he'd probably do it exactly the same again if he had to.
The ending sets things up nicely for the next book. It feels like Ghost Story continues what Changes started, blowing a lot of the cobwebs away from the story and changing Dresdens world even further, reshaping just about every aspect.
Ghost Story is a truimph, proving that even after twelve books, there is plenty of life left in Dresden yet.
Written on 26th November 2018 by Ant .
You may also like