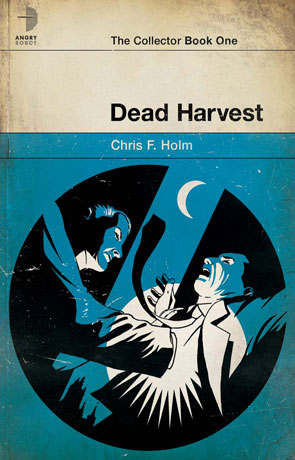 Book details
Dead Harvest

Publisher:

ISBN:

9780857662170

Published:

March 2012

Pages:

416

Format reviewed:

E Book

Review date:

28/01/2013

Language:

English

Age Range:

N/A
I'm going to start by saying that this isn't usually a book I'd consider reading, my usual reads being Sci-Fi and Fantasy (usually humorous), or history books, but I was very surprised and really, really enjoyed it.
The book is seen through the eyes of a Collector, Sam Thornton, who collects the souls of wrong doers and ne'er do wells and ending their lives in the process. When he is called upon to collect the soul of a 17 year old girl Kate, who has killed her brother and father before fatally torturing her mother, things start to change for him. He realises that something is wrong when he tries to collect her soul, and refuses to collect it, and this is where the story really gets going. It begins a thrilling and exciting chase as both angels and demons try to persuade, then force Sam to collect her soul, eventually leaving Sam and Kate hunted by the armies of Heaven and Hell as he tries to work out what actually happened and whether Kate killed her family as everyone would have him believe, or if something else went on that both sides aren't telling him. The fate of the world is in the balance, as collecting an innocent soul would start a war between Heaven and Hell which could destroy humanity itself. As Hell's most insane Collector, Bishop, hot on their heels (and often actually on them for some stunning action scenes).
From the very start of the novel, Sam Thornton comes across as a troubled man. A troubled man with something in his past that he is both disappointed and bitter about. His job, is collecting the souls of the bad eggs in the human population for the underworld and its ever suspicious and devious hierarchy. As he no longer has a physical form in the world, he and all the other Collectors can hop from one human body to another, aptly naming them meat suits, so that they can collect said souls. Sam however, only wears meat suits of the recently dead, again, something that separates him from the other collectors, and suggests that something has happened that has deeply affected him. From the very start of the book the reader feels like they're in the novel and experiencing the environments wherever the characters go, from parks to alleys, the underground and streets, they are described so well that it's easy to picture the scene. It isn't bogged down in description, but rather adds brief lines throughout that set the scenes perfectly, often so well that I could almost smell the mentioned urine in the doorway while I was sitting in the living room reading.
The characters are all well thought out, and even those who aren't in it very long all come across as individuals, not just names on a page, each with their own quirks and methods. There's characters and places that they hang out that still stick in my mind clearly from reading about them a while ago. The hierarchy of the demons I thought was particularly good, with the more senior figures living among us, their forms hidden by some means so that they looked like normal people and could go about their business unnoticed, and the lesser demons having to borrow meat suits of their own, often corrupting them and making them take on their own form. The demons are described in such a way that even when they appear in the midst of an action scene, Chris F Holm's method of description tells you exactly what they are like without slowing the pace and without detracting from the story.
When I first started the novel, it irked me that he referred to people as kid quite a lot, but as I read further I realised it wasn't an issue, it fitted with the character and his whole temperament, the cynical and bitter man who has never forgiven himself for some past deeds. As the story flows, the reader is given insights into Sam's life before he became a collectors, and the pieces of the puzzle start to form. It is a very fast paced novel, with plenty of action, superb characters, deception and mystery all the way through. I highly recommend Dead Harvest, and I'm looking forward to the next in what should be a superb series.
Written on 28th January 2013 by Rob.
You may also like