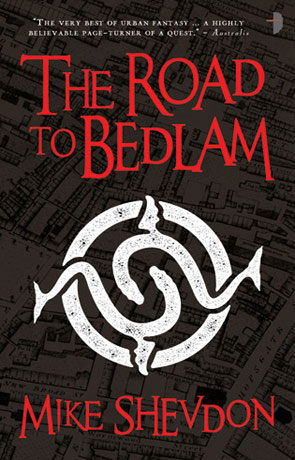 Book details
The Road to Bedlam

Series:

The Courts of the Feyre

Publisher:

ISBN:

Published:

September 2010

Pages:

464

Format reviewed:

Paperback

Review date:

04/08/2010

Language:

English

Age Range:

N/A
Books in the series
Awards won
About the author
The Road to Bedlam is the second volume in the The Courts of the Feyre series, which started with the incredible debut novel Sixty One Nails by Angry Robot Author Mike Shevdon.

The novel begins shortly after the events in Sixty One Nails with Blackbird expecting the birth of their child any time soon and Niall training for his new role as Warder to the seven courts of the fey. Being part fey and having angered the seventh court means that nothing ever runs smoothly and before long his life is again thrown into chaos and turmoil.

The manifestation of fey powers within Niall's daughter Alex leads to a serious accident at school, resulting in Niall and his ex-wife losing their daughter. Learning to cope with the loss of his child is only the beginning of his problems though as the Lord Altair returns to discuss a resolution to the banishment of the seventh court and the issue of the half-breeds. Along with Lord Altair, an old and deadly enemy has also returned and as Blackbird is without her powers (being pregnant means she hasn't got her Fey abilities which appears to be a natural safety system in order to prevent any damage those fey powers could do to the unborn child), keeping her alive and full-filling his duties as Warder could force him to choose between love and honour, duty and responsibility.

The characters of Niall and Blackbird make a welcome return in The Road to Bedlam, as a reader you just feel so comfortable with these 2 people that it's a real pleasure to continue following their journey. After the rich setting of a secret, hidden side of London in Sixty one Nails, it makes a nice change to see most of the novel set in a very different part of the country, "God's own County" Yorkshire.

As with the previous novel there appears to have been a great deal of research gone into the backdrop and locations of the story, so much so that you can almost taste the sea air and hear the waves crashing into the rocks.

Mike Shevdon does an incredible job of setting a steady pace with an intelligent script and characters that leap from the very pages. This novel also really draws at the heart strings, especially for all those parents out there, the storyline is very powerful and somewhat poignant.

The Road to Bedlam is a rich, detailed and impressive sequel to one of the best novels of 2009 with a gripping plot, superb characterisation and is such an effortless joy to read. If you have read Sixty One Nails you just have to get this, and for those of you who haven't read Sixty One Nails, what are you waiting for, buy them both!
Review by Gill on 13th February 2011


This follows on from his previous novel Sixty-One Nails and I would recommend you read that one first. Time has moved on a little and Niall Peterson is learning to live his life as a Warder to the Courts. Unbeknown to him his daughter is coming into her powers and her lack of control means lives are lost. After being told his daughter is dead he discovers that she has in fact been kidnapped. Can he carry out his Warder duties and save his daughter? It becomes harder for him to tell who is the enemy any longer and must do what he hopes is the right thing.

Again Mike Shevdon whisks you away to another reality. You are submerged in the lives of Niall, his friends, family and enemies. Magic becomes the norm and your mundane life fades into insignificance. I couldn't stop reading and yet I didn't want it to end. The story-telling is such that you don't just read about what's happening, you live it. If magic is real then Mike Shevdon has the power to transport you to other places and allows you to live the life of someone else.

I am eagerly awaiting the third book in the series, much like a man dying of thirst looks for water. I am reliably informed it's underway even as I type.
Written on 4th August 2010 by Ant .
You may also like