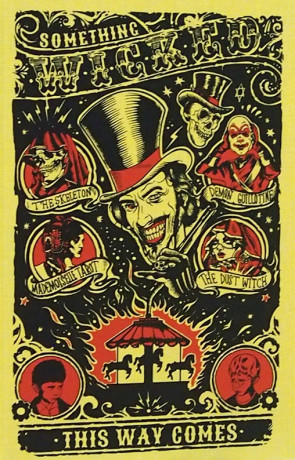 Book details
Something Wicked This Way Comes

Publisher:

ISBN:

Published:

April 2019

Pages:

272

Format reviewed:

Hardback

Review date:

18/05/2019

Language:

English

Age Range:

N/A
About the author
Illustration ©2019 Tim McDonagh from The Folio Society edition of Ray Bradbury's Something Wicked This Way Comes
The bright yellow cover of this Folio Society edition of Bradbury's classic fantasy novel is inset with a cartoon-like carnival poster, clearly telegraphing what the reader might expect when they open the book and delve into the story of Jim and Will, whose lives are changed when, a week before Halloween, the carnival comes to town.
For those who have never read Bradbury's classic story, the prose of Something Wicked… is a strong brew. This is an American novel, written by an American writer who has chosen to deliver his narrative in a thick poetic tone. However, the chapters have been carefully organised, with each being a small morsel of wicked for the reader to digest just before bed.
This particular Folio Society edition comes with a forward from comedian Frank Skinner and is replete with stylised high contrast artwork from Tim McDonagh. Something Wicked… is a book of bright colours and loud garish themes. McDonagh captures this, along with a busy minutiae around the edges of his full page illustrations and a constant mythic symbolism of death.
It is this mythic quality that gives Something Wicked… its power. The story has some timeless themes; the bonds of childhood friendship, the fear of getting old and the importance of a father figure in childhood, all of which have been echoed in a lot more recent literature from Stephen King and from the television series, Stranger Things, to name only two. However, there is also a limited aspect to Something Wicked... The carnival arrives and is banished, its characters vivid and arresting. Who is to say whether it will come again to some other unsuspecting town? The power of figures like Mr. Dark, The Skeleton and The Dust Witch are all born from the flaws of their human existence. Dark's past is partially obscured, making him all the more fascinating as the fulcrum of the carnival's curse and all the more a lingering character long after the story has faded away.
Bradbury's ability to describe the isolation, repetitive and limited lives of people in a distant American town resonates with his own childhood and the lives of his readers. The location, Green Town of Something Wicked… is the same Green Town of his previous novel Dandelion Wine. The books deal with different themes, but the connection with that kind of childhood remains. Bradbury himself considers them a loose trilogy with the 2006 novel Farewell Summer.
Could Mr. Dark and his carnival return to your home town and shake up the same old hum drum of day to day life? Would you wish for that? Or wish for something else from Mr. Dark? Be careful, you might just get it…
The Folio Society edition of Something Wicked This Way Comes by Ray Bradbury, introduced by Frank Skinner and illustrated by Tim McDonagh, is available exclusively from the Folio Society.
You may also like