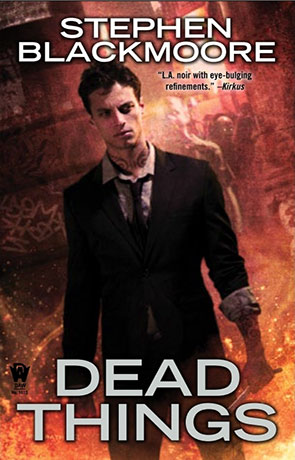 Book details
Dead Things

Publisher:

ISBN:

978-0756407742

Published:

February 2013

Pages:

295

Format reviewed:

Paperback

Review date:

16/03/2016

Language:

English

Age Range:

N/A
Dead Things was one of the few books I bought with post-christmas vouchers, after first seeing the author on twitter where he regularly trades jokes with Chuck Wendig. It's an urban fantasy adventure that follows the life of Eric Carter.
Eric's a necromancer, an angry young necromancer who finds the dead often easier to deal with than the living. He's got more power than he's willing to use and a past that would haunt the stoutest of souls. He is poster boy and wikipedia entry for anti-hero, getting more knocks than a professional boxer and yet someone who will sacrifice himself for others at the drop of a fedora.
It's a fast, gritty and endlessly entertaining story that as you might expect given the protagonist, edges into the hardboiled genre with a subtle noir ambience.
This introduction takes Alex back to his hometown, a place he left to protect those he cares about — although they might see it that he abandoned them. He's back to investigate the brutal murder of his sister and try and avenge her death.
I love the way Blackmore describes the magic within this world he's created. Like the Dresden files (the closest match to Dead Things) magic has a price, its dangerous and unforgiving. Magic behaves differently for different people in different places for different purposes. There are other similarities to Jim Butcher's creation, the writing is as warm and friendly with a similar dry wit. That's not to say this is derivative, Blackmoore's work stands on it's own quite justifiably, a rich and detailed creation.
The quality of the writing is outstanding, it doesn't take long to get drawn into the world of Dead Things and begin to root for Eric. It's realistically drawn (as much as can be given the magic ans undead and all), Eric a powerful force but someone who respects magic and knows when to use it (or avoid getting drawn into over-using it). Then there is the humour, dry and twisted and genuine, it helps elevate the book and works perfectly with the subject matter.
Overall Dead Things is a great little novel, it's short but with no wasted space and it holds the potential to be as strong a series as Butcher's, hopefully enjoying a similiar success. Mixing a noir-esque story with magic and the undead all set to an urban fantasy backdrop works perfectly. Here's hoping we see many more adventures featuring Eric the necromancer.
Written on 16th March 2016 by Ant .
You may also like