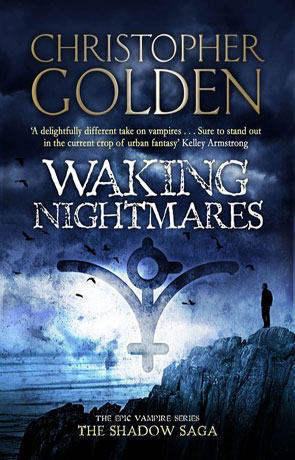 Book details
Waking Nightmares

Series:

The Shadow Saga

Publisher:

ISBN:

9781847377913

Published:

April 2011

Pages:

320

Format reviewed:

Paperback

Review date:

13/07/2012

Language:

English

Age Range:

N/A
Books in the series
About the author
Former Vampire turned powerful Mage Peter Octavian returns to investigate the small coastal town of Hawthorne in Massachusetts when the forces of darkness target the otherwise ordinary community. Since the Vatican's sorcerers are no more the magical barriers they spent hundreds of years building to keep the darkness at bay are crumbling and things have begun slipping through.
Now an ancient and powerful god of chaos is awakening in Hawthorne and has already begun to spread it's influence. As Peter was the one to rid the world of the Sorcerers, he feels responsible for this latest disaster and if he can't stop it the blood of all humankind will be on his hands.
I must admit it takes a while for the story in Waking Nightmares to really get going, there isn't a great deal of exposition or back-story but the build up to the main plot does seem to take quite a bit of time. A lot of this is taken up with character building and it has to be said that Golden does a very effective job of creating likeable and realistic people. It's not till half-way through the book that Octavian actually turns up at Hawthorne and while I'm all for creating a build-up, half a novel seems a little excessive. Having said that the does the story does move forward at a pretty fast speed after this.
I do like Golden's take on the Vampire mythology and the way that he goes for an alternative universe where people know about these creatures of the night, he also manages to build the suspense as the story progresses in a very effective way as the town slowly falls apart. The writing is quite engaging and certainly very easy reading while the atmosphere is top-notch.
The main characters of Peter and Nikki are great and Golden does a very effective job of creating a post-vampire protagonist that has just the right level of confidence and isn't over-the-top powerful. I did feet though that the author highlighted possible relationship snags too often which did get on my nerves a little.
The second half of the novel is dramatic, tense and just full of atmosphere and the plot manages to keep offering up one suprise after another. The story also ends on a very powerful cliff-hanger which works well and does leave you wanting more.
Waking Nightmares is a solid urban fantasy novel that gets better as the story progresses, a book that can be enjoyed equally as a standard alone or part of the Shadow Saga series.
Written on 13th July 2012 by Ant .
You may also like