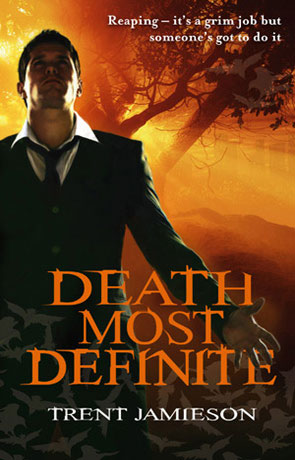 Book details
Death Most Definite

Series:

Death Works Series

Publisher:

ISBN:

9780316078009

Published:

August 2010

Pages:

416

Format reviewed:

Paperback

Review date:

11/09/2010

Language:

English

Age Range:

N/A
Books in the series
Death Most Definite is an urban fantasy novel by Trent Jamieson.

Steven de Selby has a most unusual career, he helps spirits pass to the underworld, and stops Zombies (stirrers) walking the earth. He and his parents are necromancers, also known as "pomps". This being the 21st century, these pomps have a corporate structure that is ultimately governed by the Regional Death. As if working with death wasn't hazardous enough, someone or somethings have started killing pomps and all hell's about to break loose (quite literally).

Soon enough he's one of the last pomps in the region still alive, and joined with the beautiful but dead fellow pomp Lissa, he must do everything he can to stay alive long enough to figure out how to prevent a regional apocalypse.

Narrated in the first person by the principal protagonist, Death Most Definite is a breath of fresh air in the urban fantasy genre. With a light touch, subtle humour blended with introspective dialogue, the story just sweeps along at a hectic pace (especially the second half) and even before a third of the novel is done, just about everything possible has been thrown at the poor guy. This novel is like one of those films that systematically tears the lead characters life apart bit by bit and while there are influences from recent media (being human is the most obvious), there's enough of the authors own style stamped on the book to not feel like you've seen it all (or read it all) before.

The story is more than a little predictable but the way that the first person narration works prevents this being a problem, just because you know what's going to happen next doesn't mean you don't enjoy the story. It's a bit like watching a good film the second or third time, you get more chance to notice the details which are well fleshed out, you get a really good sense of life in Australia and a healthy back story with plenty of world building.

The characters are rich and very easy to bond with - from the chaotic life of a hunted pomp to the bitter-sweet relationship with a ghost he longs for but can't touch there is a lot to like in Death Most Definite. Combine this with the corporate version of Death, the subtle blend of humour and dry wit and you get a well thought out rewarding story I heartily recommend.
Written on 11th September 2010 by Ant .
You may also like