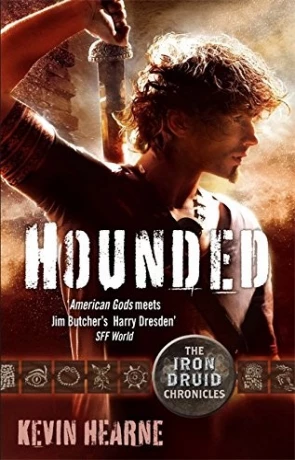 Book details
Hounded

ISBN:

978-0356501192

Published:

May 2011

Pages:

320

Format reviewed:

Paperback

Review date:

31/12/2022

Language:

English
Books in the series
Hounded is the first book in Kevin Hearne's Iron Druid Chronicles, a series of urban fantasy novels that follow the adventures of Atticus O'Sullivan, a 2,000-year-old druid living in modern-day Arizona. The story begins with Atticus, who has managed to keep his true identity and magical abilities hidden from the world for centuries, running his occult bookshop and tending to his ancestral grove. His peaceful life is turned upside down when he is visited by a group of thugs hired by the Celtic god of love and fertility, Aenghus Óg, to retrieve an ancient sword that Atticus possesses.
The sword is the only thing standing between him and Aenghus Óg, who wants to use it to achieve godhood and take over the world. Atticus must outsmart and outfight his pursuers, including the beautiful and deadly pagan goddess, Flidais, while also trying to maintain his cover as a regular human.
I loved Hounded's unique blend of mythology and modernity. Hearne does an excellent job of incorporating various pantheons and mythological creatures into the story, while still keeping it grounded in the contemporary world. The characters, especially Atticus, are well-developed and likable, and the action scenes are intense and well-written. The book is also full of humour, with Atticus's sarcastic wit and the absurd situations he finds himself in providing plenty of laughs. The narrative is fast-paced and engaging, and the plot is well-constructed, with several twists and turns that keep the reader guessing until the very end.
Then there is the portrayal of diverse and complex relationships. Atticus has a deep bond with his Irish wolfhound, Oberon, who serves as his loyal companion and has the ability to communicate telepathically with him. The relationship between Atticus and Oberon is heart-warming and adds a layer of depth to the story. The world-building in Hounded is also impressive, with Hearne incorporating various pantheons and mythological creatures into the story in a seamless and believable way. The setting of modern-day Arizona also adds an interesting twist to the story, as Atticus must navigate the challenges of living in the modern world while also trying to keep his true identity hidden.
In addition to Atticus and his relationship with Oberon, Hounded also features a cast of well-developed supporting characters. These include Granuaile, a young woman who becomes Atticus's apprentice and learns the ways of the druid, and Leif Helgarson, an old and powerful vampire who naturally works as an attorney. Each of these characters has their own motivations and personalities, which add depth and complexity to the story. Then there is Aenghus Óg, the Celtic god of love and fertility who serves as the main antagonist of the story. Aenghus Óg is power-hungry and manipulative, and his desire for godhood and control drives much of the plot. He is a formidable and formidable enemy.
One of the things that makes Hounded stand out among other urban fantasy novels is its depiction of the druid way of life. Atticus is a dedicated druid who takes his responsibilities and duties seriously, and the book does an excellent job of exploring the values and beliefs of the druid tradition. This includes Atticus's respect for nature and the balance of the natural world, as well as his commitment to using his powers for the greater good. I loved the way he uses them to outsmart and outfight his enemies. Atticus is a skilled fighter and has a variety of magical abilities at his disposal, including the ability to shapeshift into animal forms and control the elements. He is also able to communicate with plants and animals, which helps him gather information and allies throughout the story. In addition to his magical abilities, Atticus also has a deep understanding of history and mythology, which he uses to his advantage. He is often able to outmanoeuvre and outsmart his enemies by using his knowledge of their weaknesses and vulnerabilities.
I went into Hounded expecting it to be an imitation of the Dresden Files, just replacing wizard for druid, but it isn't anything like that at all. It isn't perfect, the pace occasionally seems to take precedence over natural progression of the story, while the author sometimes likes to tell rather than show. But these little niggles are not enough to get in the way of what is a great introduction to a promising series that really is trying to do something different in the genre. It's a delightful and entertaining read with fast-paced fun, engaging characters and a unique blend of mythology and modernity. If you haven't already, Hounded is definitely worth checking out.
Written on 31st December 2022 by Ant .
You may also like