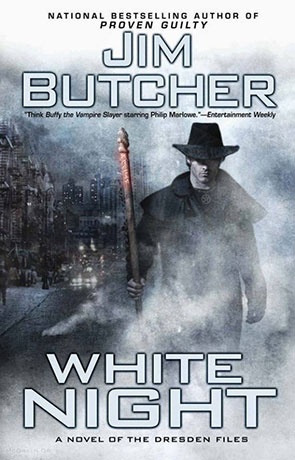 Book details
White Night

Series:

The Dresden Files

Publisher:

ISBN:

978-0356500355

Published:

May 2011

Pages:

448

Format reviewed:

Paperback

Review date:

17/10/2016

Language:

English

Age Range:

13-
Books in the series
About the author
White Knight marks the ninth book in Jim Butchers urban fantasy series featuring Chicago's first and only Wizard P.I. Regular visitors to SFBook may be aware that we are (slowly) reviewing the series.
Those who haven't read any of the Dresden Files would be better starting at the beginning with Storm Front, or at least one of the earlier books.
A string of suicides rings alarm bells with Chicago's finest and Harry is brought in to see if there is any magical connection. At the first crime scene he visits see's the taint of magic and a message is left just for him. The message advises that the killings will continue until the murderer is caught. Worryingly though, evidence strongly implicates his own half-brother.
Not making sense, Harry starts digging into what is really going on and before long attracts the attention of some powerful Vampires. Soon, whichever way he turns, Harry will find himself outnumbered, outclassed and dangerously susceptible to temptation. If he screws up, friends will die.
The War between the Red Court Vampires and the White Council of Wizards starts to spill over into the Vampires of the White Court, which as you can imagine complicates matters. It's good to see some familiar characters make a return including one of my favourites - Gangster Boss Marcone and warden Ramirez. We of course see Thomas and his White Court Vampire sister Lara (currently head of the White Court). My favourite character remains the huge dog Mouse (same name as my cat).
Butchers description of characters and events remains unsurpassed, his prose evokes clear images in the mind. His writing warm and inviting and ever so easy to read.
The plotting of White Knight is superb, the story moves forward consistently and with a great deal of action while the plot keeps you guessing, difficult to predict and with no wasted space.
It's good to see a bit of development in the over-arcing story too, even if it does only move forward a little, we do at least get more descriptions of the ongoing war.
White Knight is as good as it gets, a fast, entertaining and unpredictable story with tons of action and a great cast. Jim Butcher just gets better and better.
Written on 17th October 2016 by Ant .
You may also like