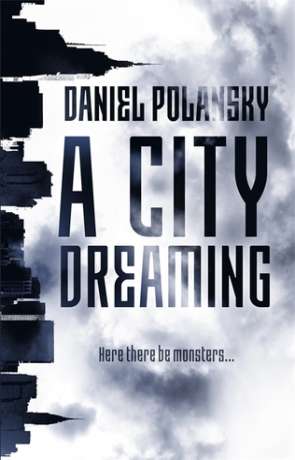 Book details
A City Dreaming

Publisher:

ISBN:

978-1473634251

Published:

October 2016

Pages:

304

Format reviewed:

Hardback

Review date:

24/10/2016

Language:

English

Age Range:

15-
About the author
Daniel Polansky is the author of the wonderful Low Town fantasy series, which shows how great a story-teller he is. A City Dreaming stretches these talents and more.
The book follows the life of M, a magically gifted drifter with a loose grip on morality and a quick, sharp tongue. He does his best to avoid the politics of New York city however when you personally know the two opposing Queens who threaten to turn the Big Apple into a crumble, trouble is hard to avoid. If M is going to stop this happening he will need to call in every favor, use every charm and cast every spell he's ever acquired.
It might even mean he has to get out of bed before lunchtime.
While the story is narrated from the perspective of M, the real protagonist of the story is the city itself. As such the over-arching story is about life in New York, or more accurately life of the supernatural. It's often life in a parallel universe too, as M spends some of his time crossing over to different realities. As such this book (as most) should be enjoyed for the journey, not the destination. The bit about the fighting Queens only really happens at the end of the book.
It is an imaginative, clever and highly amusing book, full of joyfully descriptive strange events and even stranger dimensions. M is brilliant, an ancient drifter with a dry wit and plenty of street-wise smarts, he makes the perfect narrator. There are little touches, such as the tattoo on his wrist changing to match the predicament he is currently embroiled, that really help to set M apart. He also manages to glide through most situations and is endlessly entertaining. Then there is the fact that he is this ancient (and by ancient I mean centuries old) magician with a unique outlook, sub-consiously honourable and offering a different perspective on the human condition.
The supporting cast are just as strange and entertaining, the interactions they have with M are amongst the finest parts of the book.
Polansky handles using the city as a protagonist in a clever way, while the book does build towards the end, it's very much a series of episodes. This works remarkably well and seems quite natural, at no point does it feel like a "fix up" novel - more like "the continued adventures of M in New York".
I find it difficult to describe how much I enjoyed reading A City Dreaming, it's so funny and charming and clever. Like only the best books do, it created a bit of a hole when I finished it and I'd pay good money to read more about M and his friends.
Written on 24th October 2016 by Ant .
You may also like