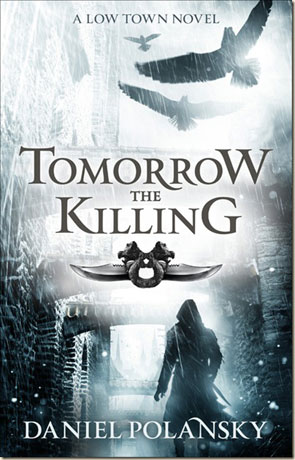 Book details
Tomorrow the Killing

Publisher:

ISBN:

9781444721348

Published:

October 2012

Pages:

368

Format reviewed:

Hardback

Review date:

15/10/2012

Language:

English

Age Range:

N/A
About the author
Tomorrow the Killing returns to that hive of villainy that is Low Town and to our guide through these mean streets, the Warden. Following on from The Straight Razor Cure and the Warden is back to his usual tricks, that is until he becomes reluctantly embroiled in a missing persons case that opens up old wounds and puts him back in touch with those he'd rather have left to rot.
This novel gives us a much deeper understanding of that complex character of the Warden, you might think you've got to know him after reading The Straight Razor Cure (and if you haven't read The Straight Razor Cure I suggest you do) but that was really just the top of the iceberg. Much of this discovery is promoted by the use of flashbacks to the war and it's aftermath which helped to shape his personality. These trips into the past tie is very cleverly with the plot and act as both a break in the main story and a way of understanding what's actually going on.
The Warden then is a much deeper and darker character than hinted at previously, amoral, sneaky and ruthless he still manages to provide a draw, thanks in part to the incredible talent of the author. We really get to understand his actions and the steps he takes, although at times he seems as surprised as others in the things he does.
Written once more in the first person, it really feels like the protagonist is talking to you personally, confiding in a disarming way that speaks of camaraderie and friendship. Even when he is at his most belligerent, his most violent, his charisma is such that I still liked him. There is a re-assuring honesty about the Warden - he never pretends to be a good person and knows exactly who and what he is. Despite this he still does what he considers necessary to protect himself, his friends and his home.
I loved the story, a sort of murder mystery thriller tinged with noir and set within this run-down "Low Town" against a low fantasy backdrop that speaks much louder for the lack of the fantastic than many high fantasy novels ever achieve. While the book is enjoyable as much for the journey as it is the destination I was genuinely impressed with how the book ended and didn't see it coming at all. The build up is simply incredible and pretty much leaves you breathless, it's ruthless and powerful and leaves Low Town different than it was before, opening up a number of paths that could be taken for future stories.
Vicious, violent, vengeful; Tomorrow the Killing is a seriously impressive novel, I loved every second.
Written on 15th October 2012 by Ant .
You may also like