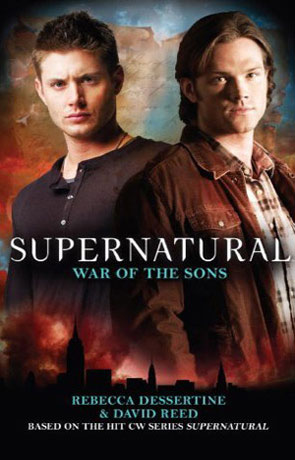 Book details
Supernatural: War of the Sons

Publisher:

ISBN:

Published:

August 2010

Pages:

320

Format reviewed:

Paperback

Review date:

01/09/2010

Language:

English

Age Range:

N/A
Supernatural: War of the Sons is an original story based on the hit TV series Supernatural (naturally) featuring the brothers Sam and Dean. The novel has been written by Rebecca Dessertine and David Reed.

Sam and Dean Winchester lost their mother to a demonic supernatural force 27 years ago and in the years following their loss, their father John taught them about a world that exists in the dark corners and hidden back roads of America, a secret world of the paranormal, he also taught them how to hunt and kill the evil that exists in these places.

While Sam and Dean are trying to track down Lucifer, strange omens draw them to South Dakota and in a small town they encounter an Angel called Don, with an agenda and a proposition - sending them on a mission far from home to find the secret that the Devil never wanted them to find.

I must admit that I have only ever seen 1 episode of Supernatural on TV, it was a very very powerful episode and I remember it well but work, reading and family life strive to keep me away from the old goggle box. The episode was "Lazarus Rising" where Dean wakes up in a coffin, and you are treated to some excellent excerpts of his time in Hell. It's one of those shows that I would most likely pick up on DVD when the sales come around. As such I have very little preconceptions about this book, and I couldn't really tell you if it breaks any Supernatural canon, that said it all sounds right enough and reads almost the same as an episode of a TV show.

The novel itself is very easy to pick-up and read and quickly draws you into the lives of Dean and Sam. There are brief explanations of what and why they do what they do, enough to understand the characters, and the authors obviously understand Sam and Dean very well - it really does show in the sibling camaraderie mixed with their troubled past. Enough back story and history is given without information overload that would bog down the plot. There is often a stigma attached to novels based on TV and film, which is justified in some cases. The quality of writing here though is quite excellent, way above the standard novelization fare, I guess an original story based on the series rather than based on one of the episodes helps but this is very talented writing.

You can't help but get drawn into the rich world that is Supernatural, not 50 pages in and I was itching to watch an episode, the idea sounds fantastic. Angels versus demons but the Angels have their own agenda rather than trying to help mankind they are doing their best to bring about the apocalypse. Dean and Sam are pawns in this game and are supposed to be opposite vessels in the eternal fight - Dean a vessel for the Angels weapon (Michael) while Sam is meant to be a vessel for the very Devil himself. God's greatest gift (and curse) free will mean that unless Dean and Sam agree then they can't be used in this way.

To make matters worse God has disappeared and not even the Angels know where he is, you can begin to see why I got hooked, and I do fully intend to track down Supernatural on DVD and begin watching. Some mighty powerful story telling to move me like that and the book keeps up all the way to the end. The easy, friendly style of the narrative and impressive characterisation mean the pages fly by and before long the book is finished, leaving a longing for more supernatural and more Dean and Sam. That feeling doesn't happen very often for me, I read that much that I enjoy a story and move on, but with Supernatural: War of the Sons I really had that rare feeling of wanting more. This is clearly based on the rich back story that is Supernatural but without such well written prose, it wouldn't have happened.

Supernatural: War of the Sons is a fast paced, roller coaster ride that feels just like a TV episode that lasts 330 pages, relentless and a great read. It's a real talent to create a book that appeals to both fan's and novices but I'm glad to say that this book does just that, regardless of whether you have never heard of the series or seen every episode 5 times, you should enjoy this book.
Written on 1st September 2010 by Ant .
You may also like