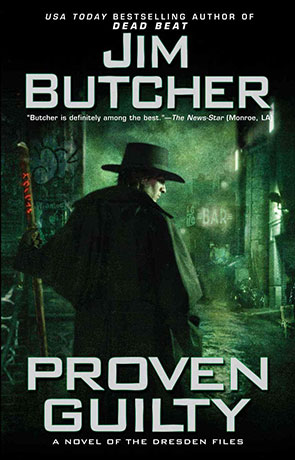 Book details
Proven Guilty

Series:

The Dresden Files

Publisher:

ISBN:

978-0451461032

Published:

February 2007

Pages:

576

Format reviewed:

Paperback

Review date:

12/08/2015

Language:

English

Age Range:

15-
Books in the series
About the author
Harry Dresden is once again thrown into magical conflict in Proven Guilty. As always, our wise cracking wizard-for-hire is up to the challenge!
Proven Guilty smoothly picks up where Dead Beat leaves off. Harry Dresden, now named a Warden of the White Council, struggles to fulfill his role as magical enforcer while staying true to his own beliefs. One of his first official tasks as Warden is to attend the execution of a minor corrupted by magic. The boy's crimes are too familiar to Dresden, who sees a future he could have had in the defiant eyes of the Warlock.
Dresden is warned that Black Magic is loose in Chicago, and the story is off! Jim Butcher does an amazing job of taking the reader though the twists and turns of Harry Dresden's life. Nothing is ever as it seems and there is always one more surprise lurking around the corner.
Just as Dresden starts his investigation into the Black Magic in his city, he is dragged away and into a different kind of disaster. Molly Carpenter, daughter of the Knight of the Cross, Michael Carpenter, turns Dresden's world upside down. Molly drags Dresden into the horror event, Splatter Con, dressed as a "Frankenhooker" – covered in tattoos, piercings, and cotton candy hair.
Harry Dresden takes the continuous surprises found in Proven Guilty with his usual aplomb. Dresden is joined by familiar characters from the Dresden Files as well a few new ones. Proven Guilty was a great read, and while not my favorite in the Dresden Files, definitely worth picking up!
Written on 12th August 2015 by Alicia Snell.
You may also like