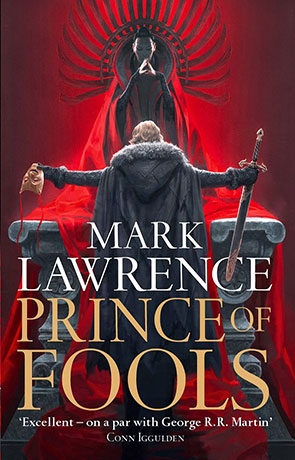 Book details
Prince of Fools

Publisher:

ISBN:

978-0007531530

Published:

June 2014

Pages:

512

Format reviewed:

Hardback

Review date:

28/08/2015

Language:

English

Age Range:

15-
Prince of Fools is the first in a new series (called the Red Queen's War) set within the same world as the authors acclaimed Prince of Thorns series. It is a slight departure in style and yet retains the wit and light-heartedness that those who have read the authors work will be familiar with.
Prince Jalan (the protagonist of this adventure) is a real rogue, a loveable scoundrel with more charisma than a camper van full of cats. The book sets the tone right from the start by describing the Princes' escape from the bed chambers of a lady. It's clear he has very few morals and runs from danger at the first opportunity. Not exactly the stuff of heroes, at least on the surface. And yet Jalan is instantly likeable and has some (well) hidden depths.
The Viking warrior Snorri ver Snagason is everything Jalan is not — courageous, honourable, trust worthy and honest to a fault. They make the perfect pair when forced together by a spell gone awry.
Prince of Fools is one of those books that you simply cannot put down and I continued reading well past a time it was sensible to do so. Part of the reason is the authors own charm, he writes in a warm and eloquent manner, with uncluttered, descriptive dialogue. His writing has an energy about it, a vibrance that can be likened to one of those people who light up a room with their sheer presence. It's full of a witty humour too, not least from the musings and escapades of Jalan.
The book is drawn from the Prince's perspective and this first person view works well, describing a world and those around it that seems to have reached a medieval level of technology long after some apocalypse with faint glimpses of the familiar. I loved reading from this self-confessed cowards perspective, a reluctant a hero as ever described — one who put his own well-being before others and has a very loose association with things like honour and property possession.
Prince of Fools is highly entertaining fiction with a great story and even greater characters. Pure fantasy escapism of the finest kind.
Written on 28th August 2015 by Ant .
You may also like