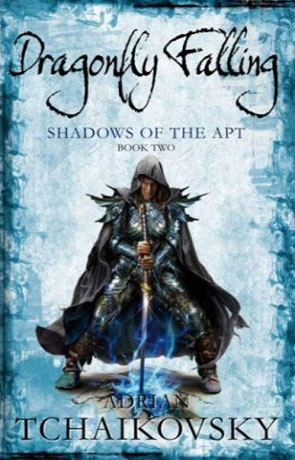 Book details
Dragonfly Falling

Series:

Shadows of the Apt

Publisher:

ISBN:

Published:

2009

Pages:

320

Format reviewed:

Paperback

Review date:

18/03/2009

Language:

English
Books in the series
About the author
Dragonfly Falling is the second volume in the Shadows of the Apt series, folowing on directly from the events of "Empire in Black and Gold"

At the start of Dragonfly Falling the two young companions, Totho and Salma, arrive at Tark to spy on the menacing Wasp army, but are there mistakenly apprehended as agents of the enemy.

By the time they are both freed, the city is under siege and escape may very well be impossible. Meanwhile over in the capital the young Imperial Emperor Alvdan is becoming captivated by a remarkable slave, the Vampiric Uctebri, who claims he knows magic that can grant eternal life. (Hmmm, vampire and eternal life....)

Stenwold is busy trying to persuade the city magnates to that the Wasp Empire's imminent invasion is a very seriopus threat to their survival. In a colourful drama involving mass warfare and personal combat, a small group of heroes must stand up against what seems like an unstoppable force.

Following the premise of the insect race, Dragonfly Falling is an impressive sequel to an exceptional novel. We are given a greater understanding of the Insect Kinden and how each of the different races fight. While the Wasp's use superior numbers and a slave contingent, the Moth Kinden use their powerful magic to gain the upper hand. The Ant Kinden on the other hand use their hive mind to great advantage in the co-ordination and tactics.

New races are also introduced including the Woodlouse Kinden and Mosquito Kinden. The pace of the book is very impressive, fast and furious from beginning to end. Bulding on "Empire in Black and Gold", Dragonfly Falling is a very impressive novel and sets the stage for the "Blood of the Mantis"
Written on 18th March 2009 by Ant .
You may also like